Wild nights of endless booze, drugs, sex and DJs surround the lives of housemates Jonah (Ryan Kwanten), Gus (Ryan Corr) and Stevie (Sarah Snook). As part of their inflow of income, the young and handsome threesome throw massive parties every weekend in their share house to continuing success. This quickly changes though when Jonah discovers a lump while engaged in a sexual act.
After discovering he has testicular cancer, Jonah is faced with the prospect of never fathering any children after invasive treatment. An attempt to cryogenically freeze his sperm fails leaving him without many options. So desperate are his attempts that he asks almost every woman he knows (and then some) to father his child.
Initially, Not Suitable For Children seems to veer down the sentimental cancer dramedy path. Thankfully, the film ventures into a quest of sorts as Jonah tries to find a compatible lady, discovering interest in unlikely places. These are characters that are in transit from adolescent youth into the responsibilities of adulthood. They have sex frequently – both good and bad – and are faced with those terrifying decisions that will affect their futures.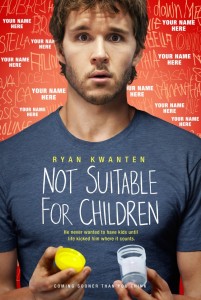 Ryan Kwanten is charming and exudes an innocence that is naive and childlike, despite claims of egocentric behaviour. Jonah is a likable character but his permissiveness eventually becomes disengaging. Ample support is given from a slew of talented actors including Ryan Corr, Bojana Novakovic and a very quick scene with Zoe Carides. It is Sarah Snook that completely steals the show however, with a captivating and enchanting performance. Initially situated as a supporting player, Snook slowly dominates the screen and with only a simple glance, conveys so much unspoken action and emotion.
Debaucherous excess, shown during the opening scenes, is playfully reminiscent of the out-of-control party scenes in Richard Lowenstein's Dogs in Space (although in a much more toned down contemporary setting minus the gritty sturm und drang.) Shifting from celebration to contemplation sees more effective storytelling as the film progresses and finds its message.
Marking the feature film debut for both writer Michael Lucas and director Peter Templeton, Not Suitable for Children is an enjoyable and unconventional transitional story that entertains without being too serious.
Not Suitable for Children opens on 12 July in Australia through Icon Films.