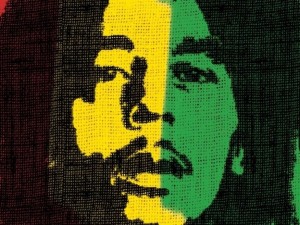 A feature length documentary tracing the rise of arguably Jamacia's most successful cultural export, Marley is a languid exploration of the life and music of Bob Marley. From his humble beginnings, ascendance to global stardom, and untimely death at 36, director Kevin Mcdonald (State of Play, King Of Scotland) utlilises interviews with some of the key players in Marley's life to create a detailed and engaging narrative.
One of the notable aspects of the film is the level of access given to McDonald by the interviewees involved in the project, including Marley's wife Rita, his son Ziggy and daughter Cedella, as well as Island Records founder Chris Blackwell, who was responsible for introducing Marley to a Western audience. Perhaps crucially, Marley was executive produced by Ziggy Marley and Blackwell, and their cooperation with the film seems to have been simultaneously a benefit and a hinderance. The amount of rare archival footage, particularly of live performances by Marley, outtakes, demos and photographs included in the film would never have been possible without the blessing of the artist's estate.
The trade off however is that as comprehensive as Marely may be in documenting its subjects life, its clear that some of the more unpalatable chapters have been deemed off limits. The film does touch on Marley's numerous extra-martial affairs,barely concealed from his legal wife Rita, many of which resulted in the birth of children, only to shy away from probing the impact on both her and the offspring featured in the film. Similarly, McDonalds hints at, but fails to follow through with suggestions that poor advice from within Marley's entourage regarding treatment of a foot infection may have inadvertently led to the case of melanoma which eventually killed him.
Putting that aside, a compelling story is presented here of Marley, the product of a relationship between a British plantation owner and a Jamacian woman, struggling with his mixed racial heritage in colonial Jamicia, finding acceptance through his passion for music,   and eventually becoming the global icon that he is today. Of particular interest is the film's exploration of his wholehearted embrace of Rastafarianism, an Afro-centric take on Christian spirituality, as a young man. Its clear that the movement remains something close to his heart even after he experiences international success, and was seemingly the drive behind his continued involvement in Jamaican society as a key figure during the political turbulence of the 1970's, in spite of his relocation to Britain.
This depiction of the life of Bob Marely is both a complex and respectful portrait of a man now elevated to the echelons of secular sainthood, and both die-hard fans and novices will find something to gain from a viewing of Marley.