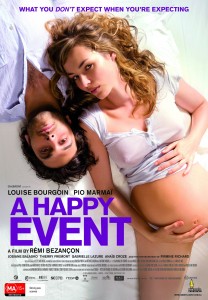 Courtesy of Umbrella Entertainment , Film Blerg is giving away ten double passes to see a preview of A HAPPY EVENT ahead of its release on 5 July, 2012. The preview screening will take place on Thursday 21st June at 6.30pm at Cinema Nova in Carlton.
Film Synopsis: An intimate view of motherhood, A Happy Event explores one of the most thrilling, painful, joyful and altogether life-altering experiences of effervescent young graduate student Barbara Dray (Louise Bourgoin).
Entrenched in the writing of her thesis and head-over-heels in love with her boyfriend Nicolas (Pio Marmaï, La délicatesse), life is good for Barbara. However, pregnancy threatens to upset universal order and Barbara faces a tidal wave of fear, excitement and trepidation, all the while absorbing the dizzying spin of heartfelt well-wishers and wayward advice-givers.
Riding the highs and lows, succumbing to the cravings, morning sickness, the ever-bulging body shape and feeling the pressure on her relationship, Barbara's attempt to conform to the image of the happy expectant mother is a journey fraught with anxiety and humourous charm.
Adapted from bestselling author Eliette Abecassis' 2005 autobiographical novel, writer/director Rémi Bezançon presents an eye-opening, heart-warming story of dedication and togetherness, proving that nothing can fully prepare you for bringing a new life into the world.
To win tickets, follow the simple instructions
Fill out your name, email and address
Name the author whose autobiography the film was adapted from.
Follow Film Blerg on Twitter or Facebook and check the box
Agree to the terms and conditions
Competition opens 9am AEST Monday 18th June, 2012 and closes 5pm AEST Wednesday 20th June, 2012.
Competition is now closed.
Terms and conditions
Passes are eligible only to Australian residents who can make it to the screening.
You must follow Film Blerg on Facebook or Twitter to be eligible.
Any information sent remains confidential.