Another season and another six episodes of Laid have come and past. This week's season finale sees some general wrapping up of the events that have surrounded the previous five episodes. Marcus Dwyer's (Damon Herriman) arrival certainly caused a commotion, and after last week's "inspiring" date with Roo, his position in the series reached even stranger heights.
Strangely, there exists a connection between Roo (Alison Bell) and Marcus. This is of course propelled by many extraneous variables: 1/ Their curse/gift has cast them as misunderstood outsiders; 2/ A shared liking for The Famous Five; 3/ Roo relentless but intoxicating predatory quest of Marcus' healing powers; and 4/ An actual possible spark… But will their relationship blossom or will Roo still attempt to use Marcus for his healing nectar?
By this stage in the game, anything is really possible. If our imaginations weren't tested with Roo's sexual curse in the first season, they were certainly tested with the introduction of Marcus' sexual healing. Strange moments continued with E.J. (Celia Pacquola) and Graham (Graeme Blundell) kissing after a weird session of breathing exercises. Even more awkward than a seedy morning after, E.J. and Graham's follow up meeting demonstrates Pacquola's natural comedic abilities.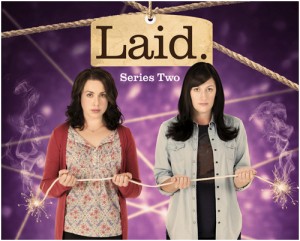 Alison Bell and Celia Pacquola's performances have been consistently enjoyable throughout the season, further exploring an emotional fragility that tested their friendship as well as their respective relationships. The greater moments of this season almost always involved the two women in the same scene. Toby Truslove's Zack managed to become even more helpless, annoying and stupid, but always endearingly so. Damon Herriman's entrance as Marcus opened up new levels of creepy, previously unexplored. Herriman's greasy appearance and creepily jaded dialect thrust viewer and character discomfort with supreme repulsion.
Series co-creator, Marieke Hardy, provides enough material to wrap up the kooky and quirky season while leaving storylines open for another series to follow. Extremely dry and incredibly docile, Laid's execution sustains the calm while plotwise, the only rival of greater insanity is evidence in Liza Minnelli and David Guest's bridal party wedding photo.
Adding more to Laid behind the camera than in front of it, Abe Forsythe's credit as only director in the opening titles isn't surprising, almost marking some humility. Advancing Laid's already prevalent deadpan qualities, Forsythe provided a balance against the Hardy and Fisher's audacious writing. The result sees a season series filled with warmth, heart and sick and twisted humour.
Laid airs every Wednesday at 9pm on ABC1. It repeats Thursday at 11pm on ABC2 and is available on iView. Click here to read more reviews from the series.