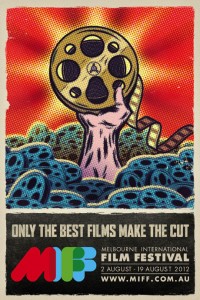 This just in from the Melbourne International Film Festival (along with a nice new festival poster):
"MIFF is very excited to announce First Glance – an opportunity for all you devoted cinephiles to have a peek at some of the fiction features, documentaries and shorts we have confirmed thus far.
This year's program is already promising to be an eclectic selection for every taste. Amongst the docos you'll find the world premiere of Paul Kelly: Stories of Me, about one of Australia's most beloved singer-songwriters, along with Werner Herzog's Into the Abyss, featuring some of America's most misunderstood criminals. We have wild flights of fancy on show in one of the latest Takashi Miike films, Ace Attorney, and Miguel Gomes's whimsical, inventive hit of the 2012 Berlinale, Tabu. We're also excited to announce that the winner of this year's Palm d'Or at Cannes, Michael Haneke's stunning Amour is joining the line up.
There are international festival award winners, Oscar winners and new (and old) films from favourite filmmakers and up-and-coming stars alike. And don't forget our Next Gen program aimed at younger viewers, and the sparkling Festival Opening Night screening of Cannes hit The Sapphires, and its gala after party with the stars.
All our First Glance films can be found at miff.com.au, where you can get ready to start booking by purchasing your eMini or passport."
LIST OF FILMS
Features:
100 Bloody Acres
Ace Attorney
Amour
Barbara
Beasts of the Southern Wild
Headshot
I Wish
Last Dance
Monsieur Lazhar
Moonrise Kingdom
Postcards from the Zoo
Ruby Sparks
Sister
Tabu
The Loneliest Planet
Your Sister's Sister
Documentaries:
Ai Weiwei: Never Sorry
Beware of Mr Baker
Into the Abyss
Make Hummus Not War
Paul Kelly: Stories of Me
Searching for Sugar Man
Shut Up and Play the Hits
Something From Nothing: The Art of Rap
The Ambassador
The Imposter
This Ain't California
Undefeated
Shorts
I Kill
Paperman
The Man That Got Away
Yardbird