The unhurried, slow burning pace of House of The Devil is employed by director Ti West again in his new film The Innkeepers, with equally effective and unnerving results. Losing the kitschy 80's horror film references of his earlier work and updating it to a modern day setting, it follows quirky heroine Claire (Sara Paxton) and her sardonic co-worker Luke (Pat Healey), two employees working at a quiet hotel in its final weekend of operation.
Both friends share a keen interest in ghosts and the paranormal, and are determined to uncover the hotel's supposed haunted past before it closes down. The few guests that check in, a mother and son escaping a domestic situation, a retired actress and an unusual elderly man, initially provide little in the way of distractions as Claire and Luke do everything possible to escape the tedium of their jobs.
It's not until much later in the film that the characters experience anything remotely approaching a paranormal experience, but the tension is effectively built up as the likelihood of the hotel having supernatural qualities is constantly suggested. Claire gets increasingly frustrated as any sort of breakthrough is delayed as she finds herself having to deal with mundane hotel matters, or deal with a concerned Luke who tries to talk her out of her growing obsession with the building's past.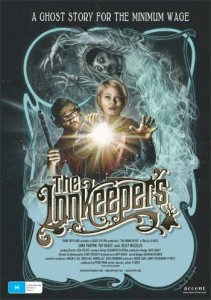 Sara Paxton gives an endearingly charming performance, imbuing her character with a determined youthful naivety that plays off well next to the wry cynicism of Pat Healey. There are just as much pleasures to be gained from the non-horror sequences of the film, particularly in the depiction of their friendship and their amusing attempts to relieve their mutually experienced boredom.
The film leaves open the tantalising possibility that Claire's ghostly encounters are all in her head, and that she is slowly been driven mad by the inanity of her minimum-wage job. This doesn't make the film's final sequence any less terrifying, and the film's dark conclusion ultimately fails to provide any sort of definitive answer.
The Innkeepers light hearted first half may be jarring for some considering what follows later on the film, but Ti West has delivered another effective thriller that is indebted to the genre's past without descending into shameless imitation or pastiche.
The Innkeepers is in Australian cinemas from 31 May through Accent Films.