Co-winner of the 2011 Grand Prize prize at last year's Cannes film festival, the Turkish drama Once Upon A Time In Anatolia arrives in Australia for a very limited theatrical release. Ostensibly a procedural crime film by writer/director Nuri Bilge Ceylan, it opens with a cohort of policeman, suspects and other legal professionals searching for a body in the Anatolian steppes.
Most films of its type begin with the search or discovery of a corpse, serving as a base point from which to raise a series of questions that require answering. Once Upon A Time In Anatolia instead make the search its primary focus. The large bulk of the film is taken up with the hunt for the body of the murder victim, as two confessed killers struggle to recall where they buried it as the convoy of police wind their way through the hills and roads in the darkness of the rural Turkish countryside. The idea of such a basic plot point being stretched out for most of the film's 2 and a half hour run time would appear to make for painfully slow viewing.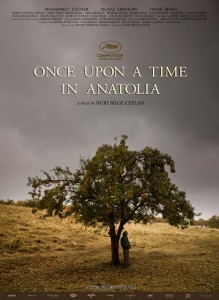 Undoubtedly, the film's glacial pace will be a deal breaker in the eyes of many viewers. The patient among us on the other hand are ultimately rewarded with an exquisitely atmospheric and immersive experience. The film's initial narrative focus recedes into the background as full formed character portraits subtly emerge through a series of alternately inane and philosophical exchanges that occur between the characters as the events of the night wear on. Also drawn into sharp focus in these conversations are recurring reflections on the widening gulf between urban and rural areas in modern day Turkey.
The photography in Once Upon A Time In Anatolia is also considerably impressive. The beauty of the countryside still manages to be conveyed despite the fact much of the film takes place at night. The camera's focus takes some surreal detours in what it chooses to focus on at times, providing some respite from the otherwise abrasive realism. The film loses some of its mystique in its final third when night eventually turns into day, but a couple of significant revelations near its conclusion maintains the dramatic weight in the aftermath of the previous evening's events.
Simultaneously challenging, harsh, beautiful and hypnotic, Once Upon A Time in Anatolia is a singularly unique work of film, and those looking for more substantial cinematic fare will not be disappointed.
Once Upon a Time in Anatolia is in Australian cinemas from 31 May through Madman Films.