After cutting his teeth as an assistant director, Adrian Grunberg makes an assured directorial debut with Get The Gringo, a gritty prison film unlike any you've probably ever seen, that is destined to polarize film audiences with its brutal violence and wicked sense of humor.
Mel Gibson stars as the simply named Driver. He finds himself in a Mexican prison, after a heist getaway goes awry, with his loot stolen by corrupt police officers and the mobster he ripped off in quick pursuit. The film follows his learning the ins and outs of his new environment, his befriending of a ten year old boy in jail and his ultimate plan for freedom.
The film, beginning with Driver's getaway, starts off fairly unfocused with Grunberg suffering from Tony Scott syndrome (the need to use ten shots when one will suffice), but settles down and finds its way when the prison story properly begins. Recalling the prison scene in Goodfellas (where the biggest issue is onions being sliced too thin for a pasta banquet), the prison in Get The Gringo is portrayed as essentially a town-like community run by a jailed mobster Javi (Daniel Giménez Cacho) where the only rule is that no one is allowed to leave permanently (although apparently day pass is acceptable). The sense of place in the prison created by Grunberg and production designer Bernardo Trujillo is stunning with a reality so incredible you can almost smell the grime on the walls. The gritty, bleached out colors of Benoît Debie's cinematography also adds to dirty aesthetic employed by the film.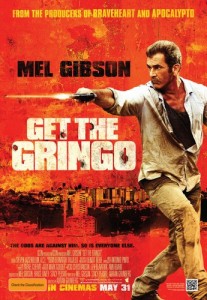 Gibson, who also co-wrote and produced, is perfect as Driver. Drawing on the same beaten down tough guy as his Porter in the similarly styled Payback, he makes a more then welcome return to the action film, his voice in particular, with its venomous growl, is utilized perfectly. The fact that he chose such confronting and violent material when it would have made a lot more sense to make something with more audience appeal in light of his much publicized escapades, is a testament to him as an artist and an individual who doesn't bow to anyone.
Although it certainly isn't for everyone, those with a strong tolerance for what's on offer and a love of the darkest black comedy will find a lot to like here.
Get the Gringo is in Australian cinemas from 31 May through Icon Films.