A couples healing retreat sees Roo (Alison Bell) and E.J. (Celia Pacquola) take a trip away from the suburban mayhem that usually surrounds their recent day realities. Last season, the two spent much more time together, so it is a welcome change to see more than a couple of brief scenes shared together. Both try to prove to the other that they are interested in being supportive. E.J. constantly tried to show up for Roo despite her natural disgust to the petulant Marcus Dwyer (Damon Herriman), and Roo looks into some alternative healing therapies.
Upon E.J.'s suggestion, the two head to getaway sexual healing centre with open minds. However, it turns out to be a centre for the perversions with giant blown up plastic vaginas as punching bags and labia lunges are a boot camp punishment. The laughs may be cheap, but at least they are there.
E.J.'s patience is also put to the ultimate test when dealing with Zack's (Toby Truslove) perpetual Jesus stasis. Unable to communicate on a human level, E.J. reaches her wits end. Her character is being pushed to the limits by her best friend and boyfriend, with neither really showing much interest outside of their own problems and epiphanies. Pacquola is especially enjoyable when she expresses her exasperation. Flashbacks to her witnessing Marcus have sex with Charlie's mum still prove for comic delight, and also show her traumatising lack of recovery.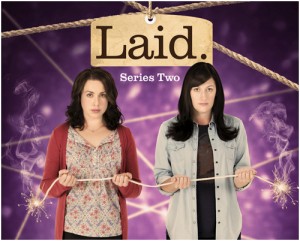 Much of Laid's humour comes from awkward absurdist comedy. Lines are delivered with complete deadpan inflections, with occasional moments allowing for greater expressivity. The final scenes of the forth episode thankfully allow for less dialogue and more wordless acting played alongside Dan Luscombe's enjoyable score.
Sure, Laid is not always pitch perfect. The fleeting moments of musical score are too few and far between, and the deadpan delivery is sometimes ineffective. One could argue that the implications of Roo's sexuality are troublesome, leading to a fate worse than castration. Sexual agency isn't exactly being rewarded, but it is, after all, a comedy.
Co-creator Marieke Hardy delivers another deadpan script with banging lines evidenced with Roo's declaration "I tried to molest him, steal his sperm; not proud of that." Ending on a cliff hanger, the episode begs for immediate answers that will at least answered by the next episode, and not the next season.
Laid airs every Wednesday at 9pm on ABC1. It repeats Thursday at 11pm on ABC2 and is available on iView. Click here to read more reviews from the series.