British director Michael Winterbottom would have to be one of the most relentlessly ambitious directors working in film today, constantly jumping between wildly different projects over the past 17 years. From slick music industry biopics (24 Hour Party People), art/porn hybrids (9 Songs), to gritty film noir (The Killer Inside Me), he has covered a wide stylistic ground throughout his career. Now with Trishna, he sets out to do an adaptation of Thomas Hardy's Tess of The D'Aubervilles, updating it to a modern day Indian setting.
Jay (Riz Ahmed), the son of a rich hotelier, is traveling with friends when he come across the beautiful Trishna (Freida Pinto). A member of a large and poor family, Trishna's father throws their lives into disarray when he destroys his delivery truck, but fate intervenes when the lovestruck Jay offers Trishna a job at his father's hotel.
While an intriguing concept in theory, Winterbottom only loosely engages with his source material to instead pursue his own obsessions with class privilege and sexual politics. The film is on firm footing as it depicts the uncertainty Trishna experiences in navigating her way up the social ladder as her life becomes ever more inexorably entwined with Jay. The first part of the film is coy as to the true motives of Jay: whether he genuinely cares for Trishna, or if he is merely exploiting his wealth and power over a beautiful poorer woman.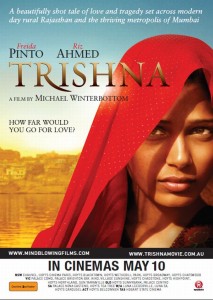 The dramatic shift in tone for the film's brutal final act is particularly off-putting, as many of these ambiguities are put aside for a series of ruthless sex scenes which grounds the film's dramatic momentum to a halt. The lack of narrative focus is also a source of frustration with Trishna, a Bollywood industry sub-plot seems to have been awkwardly included for no other reason than to give the director a chance to film some elaborate dance choreography while on location in India.
As a result, Trishna feels underdeveloped and slight despite having a run time of close to two hours, since many of its more intriguing thematic elements are either ignored altogether or not followed through with in any satisfying way. Where Winterbottom goes after this is open to speculation as always, but one can only hope for a more satisfactory effort next time around.
Trishna is out in Australian cinemas on 10 May through Madman Films.