Matthew Bourne's Swan Lake is a visceral modern retelling of the famed tragedy. It begins as the young Prince is vexed from his sleep by a haunting vision. The queen, a meticulous matriarch, enters to hush him but is repelled by his plea of affection, unable to embrace or console her frightened child. When he awakes in the morning, there is a light-hearted shift to the everyday operation of royalty, as though this neglect is commonplace.
As the melancholic Prince arrives at the lake – depressed by a brush of affection from a flapper in a cocktail dress – the dance is no longer limited by routine domestication (getting dressed, waving to your subjects) or shaped to fit its modern surroundings (clubbers bopping their heads to disco music) and the production shifts to adopt ballet as its sole expression – the ballet belongs to the swans where in the palace, all physical countenance is to be controlled, suppressed.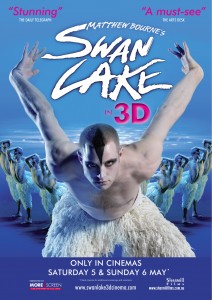 The duality of the socially lavish palace and the anonymous refuse of the lake tempt two beings to tread both worlds. The Prince is ecstatic at his liberation from his dutiful commitments, and is delivered by the tenderness and freedom with which he interacts with the lead swan/Stranger (the irresistible Richard Winsor) who is likewise drawn to the world to which the Prince belongs. The two wish to possess each other, but in both cases, are not made to survive beyond the restrictions of their own environments.  This cataclysmic push/pull of tame and wild is gloriously expressed through a series of dances at the ball, each with a stronger Latin influence than the last and an escalating sexuality.
Bourne's ballet is largely different from the traditional production and it is fitting that this recent cinematic release reflects its bold reimagining in digital 3D. In most cases 3D boosts the price of hundred-million-dollar blockbuster admissions, but here art makes use of a potentially heightened cinematic experience. The dance at swan lake that captivates the Prince and delivers him from near death is the scene in which the 3D device enhances the viewing. A ballet – best viewed live on the stage in any case – ought to benefit from an extra dimension when confined to a screen but the performance would have been just as dazzling and tragic thanks to impeccable choreography, that eminent Tchaikovsky score and an extremely handsome cast. This production is an unforgettable cinema experience.
Matthew Bourne's Swan Lake will be screened in select cinemas on May 5 & 6 through Sharmill Films. Click here for more information.