Sexual misadventures continue as the second series of Laid returns to the ABC. Creators Marieke Hardy and Kirsty Fisher also return with writing credits for the entire series, as they did last series. Actor/filmmaker Abe Forsythe is on board as director, replacing Trent O'Donnell from series one.
No time has passed since the cliffhanger ending which found Roo (Alison Bell) waking up next to an unconscious Charlie (Abe Forsythe) after having sex. Roo's sexual death curse was briefly uplifted when Zack (Toby Truslove) survived the curse and came back to life. The first series surrounded the death of every man Roo ever slept with, hence being cursed. But what is Charlie's fate?
Shaun Micallef returns as the proctologist/gynecologist, this time telling Roo's story to a group of surveying doctors. Micallef is hysterical as he uses a slideshow to demonstrate the seriousness of Roo's condition. Funnily enough, there exists a man who has the opposite condition to Roo; a sexual healer.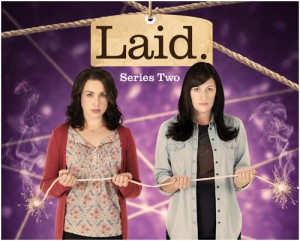 Excited by the prospect, Roo drags her best friend E.J. (Celia Pacquola) along to meet this mysterious and exotic man. He turns out to be a creepy, sticky trailer trash fiend with bad teeth and a greasy mullet-type hairdo (Damon Herriman). Initial disbelief and disgust turns into awe (from Roo) and still disgust (especially from E.J.) as they realize that Marcus Dwyer is indeed the real deal, however repulsive. It is to be expected that the new character will be a frequent visitor and this is most definitely a good thing.
Laid is an absurdist comedy with roots in severe awkward humour. Hardy and Fisher's writing is witty, colloquial, and tender as Roo struggles to deal with her very strange condition. At the heart of the series is a powerful female friendship (a scarce entity on television). The two female leads are women who are funny without being extreme caricatures, still exhibiting normal traits that the everyday woman has. Forsythe's direction is quite comical and ranges in style, allowing Marcus's creepiness to be highlighted, and Roo's general awkwardness to be a constant. Laid returns with another series that will not doubt be an enjoyable romp of farcical proportions.
Laid airs every Wednesday at 9pm on ABC1. It repeats Thursday at 11pm on ABC2 and is available on iView. Click here to read more reviews from the series.