Purposefully cringeworthy moments are aplenty as Rebecca Duvall (Uma Thurman) takes centre stage in Smash. Writers Julie Rottenberg and Elisa Zuritsky provide dialogue that is amusing as Tricia Brock and the writing team behind Smash take the show into fresh territory. Rebecca's appearance as Marilyn sends the creatives into crisis mode. Ever the demanding diva, Rebecca has many suggestions for where the show should head artistically, leaving the creatives in a flurry.
Squirming her way back into the chorus, Ivy (Megan Hilty) slithers across to Karen (Katharine McPhee) attempting to prompt jealousy over the new leading lady.  Derek (Jack Davenport) is still seeing visions of Karen as Marilyn whenever she talks to him, alerting a strong personal preference. Shamelessly salivating, Derek is blatantly Karen's fool in these visions, placing her streets ahead of Ivy as a likely contender to take over the role if need be.
Oscillating between the professional and private lives of the many protagonists, Smash is most compelling as the backstage drama plays out. The Julia (Debra Messing) affair storyline has become stale, with Frank's (Brian d'Arcy James) presence becoming increasingly obnoxious. Unsurprisingly, Leo (Emory Cohen) begins to flunk subjects at school that he formerly aced, providing further proof that infidelity is bad for the children.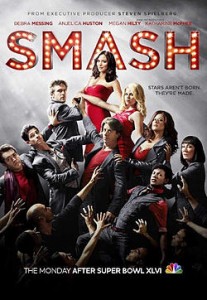 An ensuing romance between Tom (Christian Borle) and Sam (Leslie Odom Jr.) is much more engaging, especially as gay romantic storylines are still something fairly unfamiliar on network television. Giving into temptation, Eileen (Anjelica Huston) surrenders and reads up Nick's (Thorsten Kaye) file that Ellis (Jaime Cepero) had scoured up. It's not often that you get to see a gay relationship blooming as well as a developing relationship for an actress in her early sixties. Here, Smash can be very proud.
Smash's humour is part-camp and part-farce, as the notions of camp determines that the style develops from an attempt to be serious. When the show intentionally injects ridiculous events, it is successfully humourous, but not to the camp level that some of its more serious moments hit.
Uma Thurman is extremely enjoyable as Rebecca. Repellent and alluring, Thurman transfixes the attention with deliberately lacklustre singing. After appearing in the film adaptation of Mel Brook's Broadway smash The Producers, Thurman is well capable of belt out a note. Rebecca requires this talent to be toned down, but with her vocal coaching she will be able to belt out a few strong notes within an episode or two.
Another production number from Marc Shaiman and Scott Wittman adds a bit of Broadway flash in an episode with only a couple of bars from the 60s song "Our Day Will Come." After some mid-season floundering, Smash appears to have found its own feet.


Smash airs Mondays at 9.30pm and Tuesdays at 7.30pm on W channel. You can read past episode reviews here.