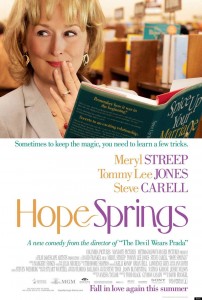 A trailer has arrived for the new Meryl Streep flick. Fresh from her pick up at the Oscars, Streep returns with a less meaty role. No, there's no accent or fancy makeup to be fooled by, it's just plain ol' Streep on show.
Hope Springs reunites Streep with Devil Wears Prada director David Frankel, in what will hopefully be another success. Television writer Vanessa Taylor has penned the script about a stale thirty year old marriage that seeks reviving. Tommy Lee Jones plays the disinterested husband to Streep's outwardly seeking wife.
Based on the trailer, expectations aren't high which is disappointing. However, when expectations are set low, surprises can often surface. Sticking with the glass half-full attitude, Film Blerg hopes for the best for Hope Springs.
Roadshow Films will release the film in Australia on August 23.