Interiors holds the distinction of being Woody Allen's first entirely dramatic work, and while he has explored more serious subject matter in other parts of his later career, this was a marked shift from the screwball comedies of his early years.
Understandably, Allen himself was reportedly anxious and hesitant about the reaction to the film, as it had little in common to the film which preceded it, the wildly successful Annie Hall. His desire to be taken seriously as a filmmaker ultimately overrode any reservations about its release to the public, and it's now difficult to imagine the director's filmography not containing this challenging and daring work.
The film tells the story of three adult sisters (played by Diane Keaton, Kristin Griffith and Mary Beth Hurt) who are coming to terms with the divorce of their parents. Complicating matters is their mother's declining mental health (a strong performance by Geraldine Page), and the seemingly abrupt decision of their father to pursue a romance with a woman whom the sisters do not approve of.
Tonally, Interiors is unrelentingly bleak and sober, with barely a wisecrack in site and the almost complete lack of a musical soundtrack. Just a couple of weeks ago, I mentioned the number of references present in Love and Death to the Swedish filmmaker Ingmar Bergman. For this film, Allen basically adopts his hero's approach to filmmaking. He employs long takes of interactions between the characters, the camera remaining static much of the time, refusing to look away, not matter how awful the events on screen may be.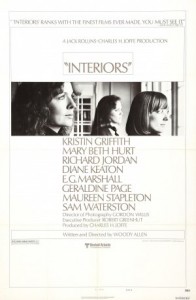 As a result, it is a distinctly uncomfortable viewing experience, which in a sense is a testament to the artistry of both Allen and the actors that he is working with. The film conveys a sense of intimacy between the siblings and their partners that is almost difficult to watch at times. The viewer can't help but feel that they are intruding on intensely personal domestic scenes which should be taking place behind closed doors. And without giving anything too much away, the film refuses to concede an inch to its audience in giving them any sense of closure or an uplifting resolution.
Allen's hesitations about the film's reception did prove to be correct, Interiors barely broke even at the box office and the critical reaction was decidedly mixed. But it did receive five Academy Award nominations including best actress for Page, best screenplay and best director.
Nevertheless, Interiors is another strong entry at about the mid-point of his dream creative run which would continue through to the end of the 1980s. If anyone had any doubts regarding Allen as a director capable of dealing with more emotionally mature material, Interiors certainly laid them to rest.
Read more entries in our Wednesdays with Woody feature!