As last week's episode of Smash looked at developing relationships, this week takes a look at the failing elements of the professional and personal lives of several characters. In some way or another, most of the characters deal with some form of rejection throughout the episode. Some rejection is warranted, and some comes unprovoked.
Ivy's (Megan Hilty) previously erratic behaviour in "Heaven on Earth" cannot even land her a role back in the ensemble of the newly titled "Bombshell". Strategically playing her moves, Ivy decides to act nice towards Karen (Katharine McPhee) who has just been cast as the understudy. Karen gets the chance to rehearsal as Marilyn while movie star Rebecca Duvall (Uma Thurman) is caught in Cuba on a humanitarian issue.
Investors anxiously await the arrival of Rebecca, prompting Eileen (Anjelica Huston) to think laterally. With some assistance from her $7 martini maker/bartender friend and looming love interest Nick (Thorsten Kaye), she enlists the help of rich rock star Randy Cobra (Terrence Mann). Always lurking beneath the surface, Ellis (Jaime Cepero) discovers some problematic information about Nick that he takes to a very insulted Eileen.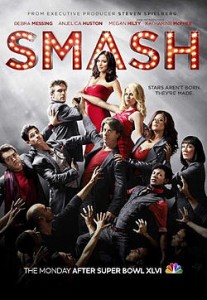 Julia's (Debra Messing) relationship woes continue as Frank (Brian d'Arcy James) doesn't pick up any of her calls, leaving her to continually weep. Tom's (Christian Borle) own relationship hits a bump when John (Neal Bledsoe) pipes up on the noticeable attraction that Sam and Tom share. Dev (Raza Jaffrey) and Karen's relationship also crashes as they fight over Derek's (Jack Davenport) treatment of Karen, and a possibility of moving to Washington for Dev's prospective career options.
Amidst all the dramatic tension, we are relieved with a musical number from Marc Shaiman and Scott Wittman. Extremely typical of the flouncing Broadway style, "Don't Say Yes Until I Finish Talking" is extremely fun, and exudes the idiocyncratic style that surrounds Smash. Christian Borle gets a rare chance to actually perform in the scene, displaying tremendous ease while being continually lifted by a bunch of eager chorus boys.
Smash is still finding its feet as it mixes comedy, drama and the musical genres together in one big melting pot. When the focus is on the actual musical itself, Smash shines. As we continue through the final five episodes of the season, tensions will expectedly rise and heroes will fall. Let's just hope they give us some entertaining songs as it happens!
Smash airs Mondays at 9.30pm and Tuesdays at 7.30pm on W channel. You can read past episode reviews here.