Dentist Tom Avery (Martin Sheen) flies to the Pyrenees to collect the body of his estranged son, Daniel, who has died suddenly in a storm.  Daniel (Emilio Estevez) was at the beginning of the much traversed, and historical Camino De Santiago or "The Way", a two-month pilgrimage from the Pyrenees to Santiago embarked upon by hundreds annually. Despondent and alone in a foreign country, Tom cancels his appointments back home, and decides on a whim to walk the way with Daniel's ashes.
Tom attracts three other lone trekkers. The first is a large, jolly Dutchman Joost (Yorick Van Wageningen) who is walking to lose weight, but the first in line to consume all the wine, lamb, goat's cheese and other culinary indulgences the Spanish country has to offer. The second is the cynical, sexy, Canadian Sarah (Deborah Kara Unger) who believes she might quit smoking if she can traverse the entire Camino trail. Finally, if not unnecessarily, James Nesbitt plays Jack, the neurotic Irish writer, found yelling at himself amidst hay stacks, and walking to amend his writer's block.
The film jokingly addresses its own "into the wild" clichés with Sarah remarking that she despises the tech comforts that she's escaping as she adjusts her iPod earphones, and the groups' grateful night spent in an extremely lavish hotel, ditching the hotel bunks and sipping champagne.
The intimacy that this father/son project exudes carries us through its awkward beginnings in which Sheen's performance is convoluted with a TV movie score and an abundant use of fade-outs transitioning every other scene.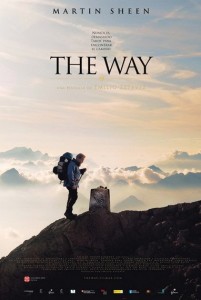 Sheen himself is excellent as an ageing father numbed with sorrow, and he brings the tired dialogue an honest and genuine confusion, embracing his feeble appearance – although the unaffected patriarch he was continues to haunt him. The indie aesthetic, and true nature of the director and the actor's relationship, is like a blanket of support; the journey of the two characters is mirrored by Sheen and Estevez's journey to make a movie.
Each pit stop brings revelations about each character, but observing the mere dynamic of their walk – who leads, who talks, who trips – is just as telling. They are constantly addressing their reasons for walking the Camino De Santiago – it is very vocally argued by Jack, in the position of writer and immediate observer, making the film experience a little lighter than it needs to be for its audience. Toward the end of the journey, the film gives itself over to marvelous, disquieting sights and reverent religious ceremony. The Camino De Santiago, although traditionally a Catholic pilgrimage, is undertaken by people of all faiths and will certainly be considered by anyone who watches this ultimately moving and beautiful film.
The Way will be theatrically released April 25 through Umbrella Entertainment Films.