Switching gears from the aggressive and turbulent speed that it has been running with, Tangle becomes much more introspective during the fifth episode of the third season. After starting an escalating war with boys at a neighbouring school, Romeo (Lincoln Younes) finally feels the consequences of his actions, without any further occurrence. As he sits with a cricket bat, waiting in his house, a burden develops that engulfs Romeo and exposes him to the realisation of his actions. His relationship with his sister Gigi (Eva Lazzaro) and mother Ally (Justine Clarke) continue to be harmonious, proving evidence of maturation. After being turned down by Ally, Joe (Kick Gurry) decides to leave the house, and it is here where we see Romeo provide some genuine emotion and regret over his behaviour towards Joe.
Consequence seems to be an implicit theme of the episode. Christine (Catherine McClements) prepares for her election with her face in the papers as a happy, normal mother. In actuality, Christine's solitary life is bleak, dark and solemn. Her controlling nature has driven her son Max (Blake Davis) and husband Tim (Joel Tobeck) away from the home emotionally adding to their physical distance. They left the home outside through circumstances out of her control, but her temperament further divides the distance even further. Her lioness, protective nature causes her to stumble, as she finds out that Nat (Kat Stewart) has been seeing the formerly (and possibly still presently) corrosive Chub (Dan Wyllie).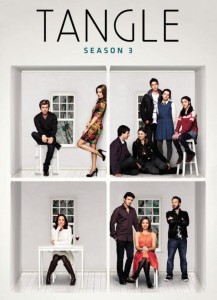 Nat has her own success with news of a job that would raise her profile. Wanting to celebrate, she finds herself at home with Chub, a glass of wine and in bed by midnight. Unsettled, Nat is completely unacquainted with the makings of a normal couple or family. Ultimately, she wants to celebrate with Ally and Max, but neither is interested, partly due to her recent egocentric behaviour.
Change slowly settles over the Kovac household as Ally begins a new job at Scienceworks, and has a cathartic fight with Gabriel (Matt Day). Their constant backwards and forwards relationship hits a climatic level, and it will be interesting to see where the final episode will take them.
A foreboding sense of explosion surrounds the episode thanks to Fiona Seres writing and Michael James Rowland's exposing direction. Romeo's actions results in tension that fuels a fascination with this exceptional series. Acting is pitch-perfect from Clarke, Stewart and McClements, with very good performances from Younes, Lazzaro and Davis.
Tangle airs 9.30pm on Sundays on Showcase. This review was first published on Onya Magazine.