Picking up after last week's disastrous attempt at a new look Marilyn song, "Hell on Earth" adds a level of playfulness back into Smash. This week's episode focuses on a few developing relationships. An ensuing romance continues with John (Neal Bledsoe) and Tom (Christian Borle) until Tom finds out that John is a Republican. Despite his reticence, he attends a fundraising benefit to show his interest. Their relationship seems frankly doomed, especially when considering the supposed chemistry between Tom and Sam (Leslie Odom Jr.), the "straightest" gay chorus member. Opportunism and Ellis also get reacquainted with each other, as the latter takes an active role in the search for a movie star to play Marilyn. Unsurprisingly, there are little boundaries that Ellis (Jaime Cepero) won't cross to get his way, including a homosexual proposition (although one that we never actually see accepted.)
Even Karen (Katharine McPhee) and Ivy's (Megan Hilty) rivalry takes a moment's shelter as the two quickly get drunk and sing a song together in Times Square. This positive intensity seems very ill fated, and will undoubtedly relinquish in the next episode. Ivy's pill addiction, which has been getting stronger each week finally hits closer to explosion level after she appears high and out-of-control on stage. Relegated back in the chorus in "Heaven on Earth", Ivy's diva nature appears again, and her continual whining about "her big break" is understandable, but insufferable.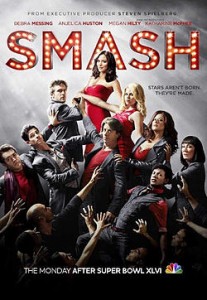 As the aforementioned relationships develop positively, Julia (Debra Messing) and Frank (Brian d'Arcy James) hit the expected snarl that we've all been waiting for. Melodramatic tension abounds, Frank discovers Julia's affair with Michael (Will Chase) as the tears begin to flow. Exerting some near physical violence towards Julia, Frank becomes an unlikeable character, despite having unfair actions placed upon him. His character's absence is a leading factor in this disconnection, and whether it was intentional or not, we feel much more Julia. Frank's movement towards physical violence is an easy opportunity to not like his character.
Scenes of the revelation, though important, are played like a typical soap opera. Messing is still very good, but there's no denying that the heightened sense of theatrics can often seem out of place in primetime dramas. McPhee and Hilty have a lot of fun together making a jukebox tune Cheers (Drink to That) bearable and even a tad fun within the commercially lit background of Times Square. Marc Shaiman and Scott Wittman get a chance to throw in another new song within the "Heaven on Earth" repertoire.
Smash airs Mondays at 9.30pm and Tuesdays at 7.30pm on W channel. You can read past episode reviews here.