Warning: spoilers follow for the premiere of Game of Thrones' second season.
"For the night is dark, and full of terrors".
Ominous warnings of winter and war rumble throughout the land of Westeros, as Game of Thrones returns to screens for its second season. This opening episode dares to move somewhat slowly, opting to re-establish many key plot points while selectively advancing others. As the 'previously on' montage (and extended opening credits) suggest, there's a lot going on here and the team at HBO have done an excellent job of keeping it all from getting out of control.
In fact, balance and cohesion seem to be main goal here. The writers are obviously quite conscious of keeping this expansive story from feeling scattered, and great care has been taken to instill a necessary sense of focus and unity to the numerous plot threads. A foreboding red comet, for example, is visible from all corners of the Seven Kingdoms. It cleverly serves as both an introduction to a new plot point, and a method of connecting the various characters who gaze speculatively over its significance.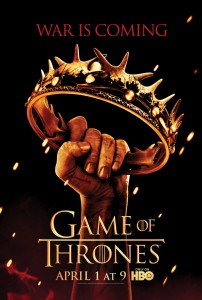 Only spoken of through the first season, we're finally introduced to Stannis Baratheon (Stephen Dillane). His story, in addition to being that of yet another competitor vying for the throne, looks to bring a stronger supernatural element to the series than has previously been explored. The rituals being performed in his honour for the 'Lord of Light', by fellow newcomer Carice van Houten as Melisandre, were thankfully conveyed with enough restraint to feel authentic to the established tone. We're also given another glimpse of Daenerys Targaryen (Emilia Clarke)'s dragons, so it will be interesting to see how these more fantastical elements are woven into what is currently a more human-based drama.
This season premiere may not have featured the levels of action or progression needed to sate the rabid anticipation of anxious fans, but in taking a more cautious approach, it has successfully built on that excitement. Here's hoping we get to spend a little more time with Arya Stark (Maisie Williams) next week!
Game of Thrones airs Tuesday nights at 8:30 on Showcase.