An entangled web of relationships continues to dominate the Showcase series Tangle. If you thought the morning after can quite often an embarrassing experience, then try waking up next to your brother-in-law. Awkwardness prevails as Ally (Justine Clarke) and Joe (Kick Gurry) attempt daily normalcy in a house full of people. Meanwhile Gabriel (Matt Day) makes an attempt to reconnect with Ally while dealing his commitment to his professional and personal life, unknowing of her developing relationship with Joe.
On the campaign trail, Christine (Catherine McClements) continues her attempt to get elected in Tim's (Joel Tobeck) seat, despite his reticence. With Max (Blake Davis) living at Ally's, Christine makes concerted efforts to rebuild their relationship after he discovered her infidelity. McClements has a wonderful moment as Christine breaks down over the logic of her affair in the previous season and impressively displays raw, honest emotion.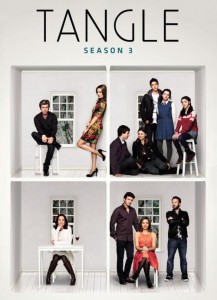 Despite her niceness and kind nature, Ally is a silent enabler of her wayward son, caught up in her own love triangle. Romeo (Lincoln Younes) asks for money and without battering an eyelid or asking for a reason, she informs that her wallet is downstairs, unaware of his dishonourable intentions. She is caught up in the dramas of her life and with Nat's (Kat Stewart) ensuing and troubling relationship with a former flame. Chub (Dan Wyllie) re-enters Nat's life with little being revealed about his past. We do know however, that he is dangerous and led to the disintegration of her life with Max as a child. Stewart allows Nat to become seduced and ensnared by his charms, and yet remains aware of the intoxicating and dangerous nature that this reunion could bring.
Characters are caught in stagnant moments with Emma Freeman's camera catching them motionless as they consider the drama in their lives. Nat is caught on the toilet, Christine lays awake in bed while her phone rings endlessly, and Gabriel sits trapped on the staircase at the hospital. They are all caught in precarious situations and are not sure of where to turn next.
Synopsizing the events of Tangle can place the storylines in a realm close to a soap opera. The series could not be any further in style or format though. Already reaching the half way mark of the season, Tangle is compelling and riveting television with outstanding performances from the lead trio of women, and equaling strong supporting performances. Fiona Seres and Emma Freeman continue their collaborative journey through the lives of middle class suburbia with utmost class and skill, making each episode of Tangle simply captivating.
Tangle airs 9.30pm on Sundays on Showcase. This review was first published on Onya Magazine.