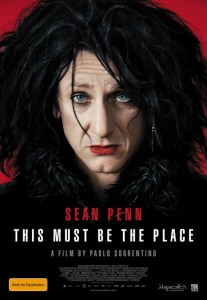 Courtesy of Hopscotch Films, Film Blerg is giving away 2 double passes and 5 two-for-one's to see THIS MUST BE THE PLACE, only at the movies April 5, 2012.
Film Synopsis:   In This Must Be The Place, Sean Penn plays Cheyenne, a bored, retired, wealthy American goth rock star living in Dublin (and looking a lot like Robert Smith). He's a complex character, bumbling around town with friends and living in an enormous mansion with his down-to-earth wife of 35 years, Jane (Frances McDormand.) When he learns of the death of his father – who he has been estranged from for over 30 years – he returns to America to embark on a road trip that will change him forever. His quest is driven by the revelation that his father was humiliated in Auschwitz at the hands of an SS officer, who may still be alive and living in America. Cheyenne's search takes him across the heartland of a country now foreign to him, encountering some great people as he is reawakened to the possibility of reconciliation and self-discovery. This is a rare film that is able to mix stunning originality and elegance with real humanity. Penn is riveting, beguiling and downright perplexing in a performance that reminds you why he is one of the greats. Featuring a terrific soundtrack with music and lyrics by David Byrne and Will Oldham, This Must Be The Place is a genuinely unique film full of warmth, humour, profundity and lots of eye-liner.

To win tickets, follow the simple instructions
Fill out your name, email and address
Name the name of Sean Penn's character
Follow Film Blerg on Twitter or Facebook and check the box
Agree to the terms and conditions
Competition opens 10am AEST Wednesday 4th March, 2012 and closes 5pm AEST Sunday 8th March, 2012.
Competition is now closed.
Terms and conditions
Passes are eligible only to Australian residents
Film Blerg and Hopscotch Films cannot be held accountable for any delay or loss of prizes.
You must follow Film Blerg on Facebook or Twitter to be eligible.