It's one crowded house over at the Kovac's. With her sister, brother-in-law, nephew and two kids running around, chaos reigns supreme in Ally's (Justine Clarke) life. Regardless of the madness, Ally is still trying to find purpose, briefly acquired through selling cupcakes to a café. 
In direct contrast, Christine (Catherine McClements) sits alone in her home, studying up politics. Having been asked to take over her absent husband's parliamentary seat in the upcoming bi-election, Christine seems tangled in her own personal and public justifications for taking the challenge. Her public reasoning sees vengeance towards former antagonist Billy (Tony Rickards), but it does seem that she actually wants to rise to the occasion despite her initial reservations. Agency and choice are opportunities that Christine's mother, a long-serving politician's wife, didn't have. As a result, Christine sprints ahead, albeit to Tim's objections.
Emma Freeman's direction really enters into the emotional vocabulary of the characters. Stiff restraint follows Christine's actions, whereas Ally's movements are followed with a constantly moving camera, echoing her evolutionary changes as a mother and a human. Fiona Seres' script is right on the money, with snappy and serious dialogue that allows the characters to not only seem human, but entertain.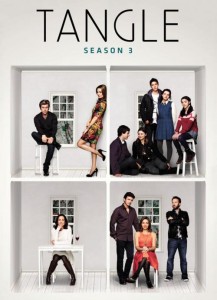 Secrets still preoccupy Tangle, despite there being few left. Tanya's (Jane Allsop) appearance at the Kovac's house one night causes a stir, leading to a frank discussion between Tanya and Ally regarding the children. Of course, the children in question (mainly Ophelia (Lucia Emmerichs) and Gigi (Eva Lazzaro)) are completely reasonable and under control. It is the adults who make life difficult, and Joe (Kick Gurry) adds to the fray by confronting Tanya. This leads to another revelation that Joe had previously taken the blame for Vince in driving accident.
Adding further intrigue, the appearance of some roses for Nat (Kat Stewart) introduces a former flame into the series that we're yet to meet. Nat is secretive about the identity of the mystery admirer, and we know that there is potential drama lurking.
Tangle's ensemble has never been better, and season three looks set to allow the actors to explore their characters with in-depth precision. Clarke is incredibly strong as Ally, especially as her perennial love triangle heaps up with a steamy scene with Joe. McClements inner turmoil is fascinating and Stewart's ensuing courting sees her act with enigmatic reservation.
Tangle offers a string of intertwining lives at moments where characters have become lost and search for new answers to bring upon much needed change.
Tangle airs 9.30pm on Sundays on Showcase. This review first appeared on Onya Magazine.