Made in 1971, Bananas continues the early screen attempts of Woody Allen as writer/director/star. Basically consisting of comedic sketches (like most of his early work would until the more narratively driven Annie Hall), the film follows Allen as Feilding Mellish as events conspire that take him from his job as a test subject for new inventions, to revolutionary president of a fictional South American country after a coup; all to impress his social activist girlfriend.
The structure of Bananas has had a lasting legacy to this day and can clearly be seen as a predecessor to the cutaway narratives in the likes of The Simpsons and Family Guy. The film places its comedy high above characters, story and any sense of continuity and realism and runs completely with its gags, most of which are extremely amusing. The opening scene where a political assassination is commented on play for play by sports journalist Howard Cosell sets the irreverent tone for the sheer craziness that follows.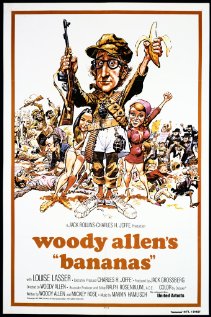 Even at this early stage in his career, Allen shows a great command of screen direction. Clearly influenced by the European masters that Allen has acknowledged so much (Ingmar Bergman references appear all through his work and Fellini and Antonioni were mimicked amusingly during a segment in his next film Everything You Always Wanted To Know About Sex *But Were Afraid To Ask), the film incorporates the hand held camera work of its faux-news footage opening expertly with the rest of the movie, and some of the imagery, like Allen being carried through the streets of New York on a cross, is stunning and transcends its humor based origins.
As to be expected from a Woody Allen film, the dialogue is funny and the cast deliver it well. The break up scene is a particular high light and evidence of the talent Allen demonstrated for not only humor, but also the dramatic (and the combination of both), right at the beginning. Allen, in the typical socially awkward Jewish nerd  role that he would make his career specializing in, does well and his ex-wife Louise Lasser is also good in the same type of eccentric female that would go on to be played by the likes of Diane Keaton, Mia Farrow and most recently Scarlett Johnasson in later films. The film is also notable for a brief role from Sylvester Stallone during his Italian Stallion days as a thug on a train.
Bananas is a funny, likeable effort from someone that would go on to not only become the defining master of his genre but arguably the creator of its modern incarnation.
Read more entries in our Wednesdays with Woody feature!