If there was ever an enigmatic international star of the silver screen in contemporary times, it would be Charlotte Rampling. Her aura exists in a world of discovery and darkness, and her body of work compliments an artist's exploration of the oftentimes unrepresented characters on the screen. But who is Charlotte Rampling? What relationship does she have with her work and her own sense of self?
In nine short segments, filmmaker Angelina Maccarone manages to cinematically pin down Rampling in a variety of different settings across London, New York and Paris, while giving her the chance to articulate her thoughts on a life and career in film. Almost every segment features a seminal film in Rampling's career ranging from Georgy Girl, The Night Porter, Stardust Memories and Swimming Pool. In addition to the films, almost each segment is joined by an artist who has had an influence on Rampling's life and career in one form or another (including poet Frederick Seidel, artist Juergen Teller and son/actor/director Barnaby Southcombe.)
The Look is not too far from the usual conventions of a self-told biographical documentary, but its technical and narrative style set it apart from many similar films of the genre. Rampling is her usual enigmatic self, but does let her guard down and reveals the complexities of camera acting. It is clear that a definable relationship exists between Rampling and the camera, and to see just a portion of her process is a rare and exciting opportunity.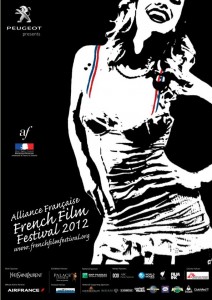 Exposure, age, beauty, resonance, taboo, desire, demons, death and love are the nine segments that divide the film, and each varies in its location and cinematography. Age looks rather grainy and dreary, where desire has rich, red velvet background. Rampling is candid about her professional and personal insecurities, making note of her sister's suicide and its effects. Wise words also feature throughout the film with the most profound quote relating to artistry: "If you want to give anything worthwhile of yourself, you have to feel completely exposed."
Rampling's face is the first sight we see as the film opens. She displays that mysterious and arcane look whereupon the title card appears, followed by "a self portrait through others." While others are involved throughout the film, The Look is pure, unfettered Charlotte Rampling. And this is a very good thing.
The Look is currently playing at the Alliance Francaise French Film Festival. Click here to find dates in your city.