"The Cost of Art" finally moves the new NBC series Smash into the rehearsal space. First day anxieties and nerves are a plenty, especially for Karen Cartwright (Katharine McPhee) who narrowly missed out on the titular role of Marilyn Monroe in Marilyn the Musical. As compensation for loosing the role, Karen gains entry into the ensemble. Ivy Lynn (Megan Hilty), the star is well known by many in the ensemble, and it doesn't take long before Karen is treated as if she is still the enemy.
Episode 4 teams the pressure of putting together a Broadway show with past tensions existing between the creative people involved and testing their future relationships. Past indiscretions are bothering Julia (Debra Messing) as former flame Michael (Will Chase) joins the cast. Messing gets the chance to have a sing and dance around as a backup performer to Ivy Lynn's Marilyn. The group find themselves at a birthday party for child star Lyle West (Nick Jonas). In trying to appeal to Lyle as a financial investor, the team quickly put together one of the numbers for the show. The result is the first time we've really seen a production number (albeit not staged within the world of Marilyn) from start to finish. Marc Shaiman and Scott Wittman's USO number is strong, vivacious and a whole lot of fun. Hilty performs it with absolute gusto and flawlessly delivers Marilyn's energy.
Elements of Monroe's life are continually referenced throughout the series without being dominant. Eileen finds herself in a financially sticky situation where she is forced to part with a valuable Renoir sketch in order to raise funds for the workshop of Marilyn. Anjelica Huston is a genuine pleasure in this series, and adds a class, sophistication and comic touch to Eileen, using a physicality that displays bawdiness and wit.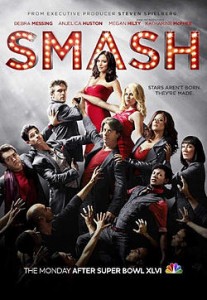 Katharine McPhee is once again a standout performer, despite her lack of experience in acting. Not too far behind is the bodacious Megan Hilty, who flaunts confidence, sass and vulnerability with ease. Guest star Nick Jonas has the task of singing a Michael Bublé song that doesn't really hit as many high notes as the original songs. His performance, however, fared better than the song.
David Marshall Grant and Michael Morris stood in the writer and director seats respectively, and allowed the cast to have the most fun we've seen them have yet. Jukebox numbers with Adele's "Rumour Has It" are less engaging, but could be a whole lot worse. However, the more original songs present, the better, as Shaiman and Wittman's talents should not be cast aside.
Smash airs Mondays at 9.30pm and Tuesdays at 7.30pm on W channel. You can read past episode reviews here.