Perhaps a normal series may mark important revelations and cliffhangers at one a piece per episode. The Straits, however, climaxes it's seventh episode with one mega revelation, a big hint at another, and brutal crime that leaves one family member in strife (if not death.)
With Harry (Brian Cox) finally out of the hospital and recuperating at home, the grown children find themselves answering to his every unwavering demand. Noel (Aaron Fa'aoso) is in jail, and Marou (Jim Bani) is home with incredible traumas to bear after being kidnapped. Bani is very delicate and has an unsure gentleness as Marou. Even when pointing a gun at someone's head, his voice is high in pitch, showing the traumatic scars that have also been physically imprinted on his body. Nightmares and vision envelop his movements, and yet he still continues to follow Harry's orders.
Though a deal was struck to place Noel in jail, protecting and releasing Marou, Harry wants the deal reneged with Noel back home. He sees his actions as cleaning up the mess that the kids made in his absence. In Harry's eyes, the kids have failed at maintaining the business, which stands out particularly strong after Harry's announcement of his intended distribution of power. A hierarchical structure still exists in the family, but by this stage in the series it is much more fragmented and fractured.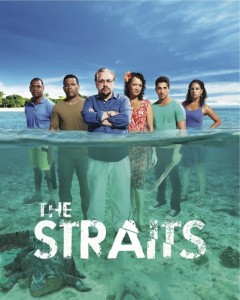 Each family member is constantly in everyone else's business, but despite this, there are still many secrets and lies that occur on a daily basis. Thanks to Sissi's (Suzannah Bayes-Morton) security cameras – keeping her distanced and yet consumed in the family – Kitty (Rena Owen) finally discovers Natasha (Rachael Blake) and Harry's affair, putting a lingering question to bed: Did Kitty know about the affair? The stellar Rena Owen has a compelling breakdown after all is revealed, and now we can only wonder where she will take Kitty next.
Rowan Woods' direction of the episode is marked with wonderful aplomb as Kitty becomes aware that something is awry with Natasha and Harry. Time is drawn out and the camera takes the position behind Natasha as she walks by Kitty, creating a disoriented feeling. Kristen Dunphy's script also spreads the revelations well, masterfully saving them all for the last five minutes.
The Straits sets up complex relationships and storylines within a complicated family. As each character becomes unravelled, the stakes are raised for each episode to combat the narrative drama and tension set up in the previous episode. And yet it manages to do so with such ease each and every single episode.
The Straits screens on Thursdays at 8.30pm on ABC1. It also screens at 10.30pm on ABC2 and on iView. Click here to view other episode reviews.