Erskineville Kings is a story about freedom that challenges the notion of family and brotherhood. 
Barky (Marty Denniss) is passive and timid while brother Wace (Hugh Jackman) is an aggressive monster unable to contain his rage. When Barky arrives home to Erskineville for his fathers' funeral he must face Wace who is resentful and bitter that Barky escaped the town and their abusive, alcoholic father.
Written by Marty Denniss and directed by Alan White in 1999, this film has a raw soul that sets the banal existence of it's residents against a backdrop reminiscent of a Jeffery Smart painting, showing the sad reality that some people are incapable of change.
Although slow to start Erskineville Kings builds pace and creates a subtle awkwardness both on screen and within its audience and with it we feel the sense that we don't belong.  As Barky slides further into argument with Wace we are just as lost as he is.
This film is a preview of Jackman's dark side and is essentially his Romper Stomper. Wace is a dislikeable bastard with whom we can all identify, that culture of aggression and abuse beams from him, his foul mouth and his arrogance drain the life from those around him and yet they remain loyal.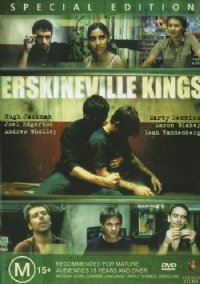 How can Barky fit in to a place he never belonged? How can he re-connect with friends he has clearly outgrown? It's only when Barky learns the truth of Wace's journey, (that he took their terminally ill fathers life because 'he did what he was told'), that we see a crack in Wace's armour. A pain so embedded in his soul we understand what his fury, his jelousy and resentment is about, his lack of freedom from a father and a town that won't let him go. The brothers reconnect for a brief, yet powerful, moment in time and the world goes back to the way it was, as if nothing had changed.
Erskineville Kings is a strange but beautiful film about two lost men who share a bond of suffering and are thrown together to deal with and say goodbye to a father who ruined their lives and broke their spirits.
Erskineville Kings is a Radical Media production and was theatrically released in Australia on 23 Sept, 1999.