Narrator: "So my master sat me down for my first lesson in Judaism…"

Rabbi: "Here's how the world began. The Lord God created the world in seven days, 5,700 years ago."
Student: "I'm not stupid."
Rabbi: "It's true."
Student: "That's absurd! Carbon dating has proved the world is billions of years old."
Rabbi: "It might be wrong. Maybe Noah's flood made the planet seem older than it is."
Student: "Even a kitten wouldn't fall for that!"
Oh yes, did I mention that the student is a cat who recently swallowed a parrot and gained the ability to talk?
Such is the oddball charm of The Rabbi's Cat, a quirky animated film from Joann Sfar and Antoine Delesvaux based on Sfar's graphic novel of the same title.
Set in Algeria in the 1920s – a time when the country was still under French rule and its citizens were a diverse mix of Jews, Muslims and Christians (both Arab and non-Arab) – the Rabbi in question (voiced by Maurice Bénichou) is a respected elder in his sleepy coastal town. Other than a daughter who's growing up too fast (Hafsia Herzi) and a mild rivalry with a fellow Jewish elder, he has few worries in life and spends his days lazily lounging in cafés watching the world go by. But once his cat (François Morel) suddenly finds a voice, he's loath to shut up – challenging the Rabbi's religious and philosophical views and generally upturning the lives of the Rabbi and his daughter.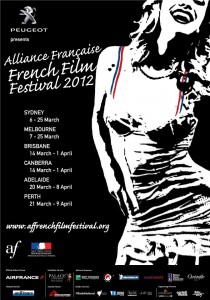 Even in the face of some particularly hairy situations brought on by the arrival of a mysterious stranger from Russia (Sava Lolov), the cat's sassy demeanour and mischievous suggestions are a constant drag on the Rabbi's patience. The Russian, stowed away in a crate full of religious texts, is on a quest to find a hidden mythical city he believes to be in Ethiopia, and so he enlists the Rabbi, the cat, a wise Arab Sheikh, the Sheikh's donkey (who can also talk), and a local Russian playboy to embark on an epic journey of African discovery on a Citroën half-track.
It sounds too far-fetched to be anything but a wacky animated comedy, but it does explore in surprising depth the tensions between groups divided by religion and history without being so earnest as to stifle its natural absurdism. It's a strange juggling act, but one the film manages with confidence.
Visually, The Rabbi's Cat is a mash-up of early Fleischer brothers cartoons and the textured, economical line shading of Hergé's Tintin adventures.
In fact, if you imagine Tintin as an elderly Jew and Snowy as a sassy, back-talking feline, and instead of going on dangerous adventures solving crimes they sit around discussing religion and philosophy at length, you'll have something close to The Rabbi's Cat.
Close, but not quite there. I don't think there's any way to adequately summarise a film as unconventional as The Rabbi's Cat.
The Rabbi's Cat is currently playing at the Alliance Francaise French Film Festival. Click here to find dates in your city.