Enter Mr. DiMaggio, the third episode of NBC's Smash, starts off with a literal playful bang. I wasn't aware that humping was a common feature on NBC series, let alone opening an episode with a woman literally on top. Of course, little sound echoes from the actors mouths, making the scene somewhat harmless. It is Ivy Lynn (Megan Hilty) who is a top her director Derek (Jack Davenport), in the opening scene of the episode which is dominated by relationships. Ivy doubts her actual connection to Derek, wondering instead if she got the role from banging the boss.
As Eileen (Anjelica Huston) continually throws martinis at her ex husband through a series of power meeting dinners, Julia (Debra Messing) is reminded of an extra-martial affair she had with the actor who is slated to play Joe DiMaggio (Will Chase). Julia is a bit of a shambles in this episode and Messing indulges in this, without overplaying it. Her sass and witty attitude comes across as bitchy and stirs up Tom's (Christian Borle) assistant Ellis (Jaime Cepero), who proposed the idea of a Marilyn musical. The episode briefly and subltly delves into issues of intellectual property, regarding this issue, whereupon Ellis steals Julia's notebook. While Ellis' demeanour had previously danced back and forth between straight and gay, we now see that he seems to have at least a romance with a woman, if not a relationship.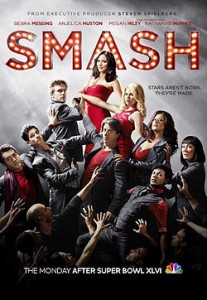 Meanwhile, Karen (Katharine McPhee) returns home to Iowa to celebrate a friend's baby shower after being relegated to the chorus (euphemistically known as the ensemble.) Her home town is the definition of suburban middle America, solidifying her status as the girl next door. There is even an American flag on her front porch, and her parents (Dylan Baker and Becky Ann Baker) add to the small hometown feel with their clean cut apparel and big city concerns. McPhee is a fairly good actress too, interestingly proving more interesting when she's not singing.
"Enter Mr. DiMaggio" is a fun and playful episode thanks to the continual writing and directing from series creator Theresa Rebeck and director Michael Mayer, with a couple of already popular songs – Gretchen Wilson's "Redneck Woman" and Bruno Mars' "Grenade" – appearing. This seems like a troubling inclusion, as the show's selling point were the original songs in the context of an original show. Instead, the inclusion of these songs edge Smash closer and closer to the juggernaut that is Glee, and remove its uniqueness. Mind you, the pilot did feature McPhee cover Christina Aguilera's "Beautiful", so there seems to be a balance against Marc Shaiman and Scott Wittman's original songs.
Smash airs Mondays at 9.30pm and Tuesdays at 7.30pm on W channel. You can read past episode reviews here.