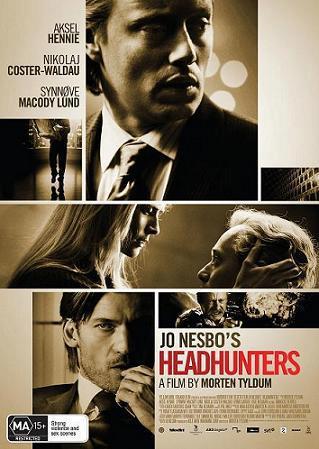 Courtesy of Rialto Distribution, Film Blerg has a special giveaway for HEADHUNTERS, only at the movies March 8, 2012. To celebrate the film's release, we're giving away 5 double in-season double passes.
Film Synopsis: Norwegian crime thriller about a headhunter (which involves killing and literally taking a person's head) forced to run for his life after a by-the-numbers snatch-n-grab takes an unexpected turn. Based on the novel by Jo Nesbø. Roger (Aksel Hennie) is filthy rich, married to a ridiculously gorgeous gallery owner and carries the title as Norway's most successful headhunter. To supplement his income, he is also an accomplished art thief. With the idea of ending his criminal ways, Roger plans on swiping a tremendously valuable painting from an ex mercenary…
To win tickets, follow the simple instructions
Fill out your name, email and address
Answer which country the film hails from
Follow Film Blerg on Twitter or Facebook and check the box
Agree to the terms and conditions
Competition opens 9am AEST Wednesday 7th March, 2012 and closes 5pm AEST Sunday 11th March, 2012.
Competition is closed.
Terms and conditions
Passes are eligible only to Australian residents
Film Blerg and Rialto Distribution cannot be held accountable for any delay or loss of prizes.
You must follow Film Blerg on Facebook or Twitter to be eligible.