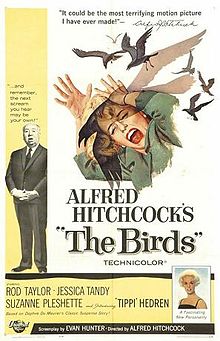 Having previously adapted Daphne du Maurier's Rebecca (1940) to triumphant acclaim, Alfred Hitchcock took on du Maurier's 1953 short story The Birds (1963). Unlike the impressive Saul Bass designed openings seen in Psycho and Vertigo (1958), The Birds is much more understated. As the film opens, birds are heard fluttering back and forth. Already enough to send shivers down one's spine, the birds then appear flying manically back and forth, forewarning of the terrors to come.
Having seen The Birds as an eight-year-old, I subsequently became anxious of overflying birds and their potential for ravenous depravity. Later screened in my first year cinema studies class at La Trobe University, the class continually laughed throughout the film's entirety to my absolute and appalled shock. Susan Sontag wrote on the aesthetics of camp only a year after The Birds release, and much of the film's retrospective humour can be derived from its references to camp.
Our lecturer Anna Dzenis warned us of the strange happenings that occur when she screened The Birds. True to her word, less than a week after the film was screened, I had an unfortunate incident with a bird on the golf course. It was true. When The Birds is screened, somewhere a bird will attack.
Hitchcock's The Birds begins with prankster Melanie Daniels (Tippi Hedren). A young socialite coming from a wealthy and established family, Melanie is headstrong and intuitive. Upon meeting Mitch Brenner (Rod Taylor) in San Francisco and sparking a playful conversation, Melanie secretly arrives in Bodega Bay where Mitch spends the weekend with his mother Lydia (Jessica Tandy) and much younger sister Cathy (Veronica Cartwright). And then the birds attack…
Jessica Tandy is unsurprisingly the strongest performer of the ensemble, and details true fear with the utmost class and sophistication. Not to say that Hedren, Taylor or Suzanne Pleshette (who plays Mitch's former flame Annie) give weak performances. Making her feature film debut, Tippi Hedren makes an indelible splash which never really reached the same heights.
An epic battle of man against nature, motionless child against pecking psychotic bird, Alfred Hitchcock creates pure terror with each horrific bird attack. Much of the horror is instilled through a lack of sound. The only thing that is audible as the birds attack is the sound of their attacking. The actors are left silent (sans the school children scene), striking up believable panic.
This post was originally published on Not Now, I'm Drinking a Beer and Watching a Movie as part of the ongoing "My Favourite…" series.
N.B. The following clip highlights the criminal mastermind nature of the birds. While detailed my distress during the screening, the clip does highlight a particular funny moment. Especially from 1:15 onwards.