Director Jonathan Levine follows up 2008's The Wackness with 50/50, a relatively low-key 'dramedy' starring Jason Gordon Levitt and Seth Rogen.
Reportedly based on the real life experience of the film's screenwriter Will Reiser, it centers around radio writer Adam Lerner (Gordon-Levitt) who discovers that he has a rare form of cancer. His diagnosis and subsequent treatment has a wide ranging impact on the various relationships in Adam's life, especially with his best friend Kyle (Rogen), girlfriend Rachel (Bryce Dallas Howard), and overbearing mother (Anjelica Houston). Adam's cancer treatment also brings him into contact with a young and unexperienced therapist, played by Anna Kendrick, whom he at first reluctantly agrees to see.
On paper, trying to wring laughs from a cancer diagnosis seems like an impossible task. A filmmaker who gets it wrong runs the risk of trivialising the experience, or worse, they may simply come across as outright insensitive or heartless.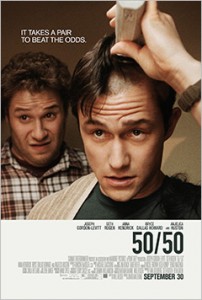 Thankfully, the film manages to have its cake and eat it too, delivering a steady stream of humorous moments whilst succeeding in conveying the difficult emotional terrain that cancer sufferers and the people around them have to navigate.
Credit for this chiefly should go to the performances of Gordon Levitt and Rogen. Both have been cast in roles that don't require them to stray too far from their comfort zones, however their character's contrasting temperaments is the film's most potent source of laughs, and probably the best developed relationship of the entire film. Rogen's trademark boorishness seems out of place early on, but he too contributes effectively to the genuine sense of affection between the two lead characters as events unfold around them.
50/50 is not without its flaws. Like many other director's working in this vein, Levine relies too heavily at times on montages set to pop music to convey his character's internal emotional states, and a case could be made that the depiction of the protagonist's girlfriend is a less than generous one. But as a rare film that manages to provoke both laughter and tears at a number of moments, 50/50 is highly recommended.
50/50 will be theatrically released in Australia on March 8 through Roadshow Films.