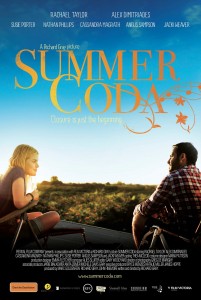 That it took over five years to make an Australian film is no great surprise. From a genesis beginning on the Movie Channel's Project Greenlight, one may have thought the general timeframe may have been expedited. While this clearly was not the case, the years clearly show much careful time and precision dedicated from the film's writer/director Richard Gray.
Summer Coda sees an Australian native, but Reno residing character named Heidi returning to her homeland after her father has recently died. Rachael Taylor plays Heidi with an American accent in tow in a piece of interesting casting. Indeed, Summer Coda is one of the few recent films that does not include a foreign import in the lead role, despite the potential being there with the American accent. Instead, Taylor, who thanks to Transformers fame is an international name in own right, takes on the role and keeps the local talent factor strong.
Joining her as the love interest is Alex Dimitriades as Michael, a familiar Australian face to the Australian screen. Their relationship slowly grows and continues to ripen throughout the film with typical narrative conflicts. Michael is a widow, a role that allows him to inhabit more emotions than just the eye candy to the protagonist.
Mostly set on an orange picking grove, a sense of Australia is strong without being self referential. The setting is rural, as opposed to suburban or urban, as most recent Australian "interior" dramas are (with perhaps an exclusion notable in Somersault). Taking the role of feeble antagonist, the Australian landscape is drought ridden and creates tension within its populace, especially seen in a pub brawl in the beginning of the film. However, the Australian landscape also adds to the aesthetic look and feel. A summer backdrop over the burgeoning awakening of the protagonist sees an evocative and effective combination.
Jacki Weaver, Susie Porter and Steve Mouzakis appear for minute moments that beg for more screen time. Michael's friends and fellow Orange picking employees thankfully add a well rounded sense to character inclusion with ample performances from the likes of Cassandra Magrath, Nathan Phillips and Angus Sampson.
Occupying a regional space, Summer Coda is an ambitious piece of filmmaking. Richard Gray has presented characters that are multi-faceted and compelling. Summer Coda comes across as serenely subtle, with a storyline that trails, falls behind, but returns winningly towards the conclusion. Like the musical term that it lends its name to, the film is all the chances and opportunities that spring from what seems to be an ending.
Summer Coda opened theatrically in Australia on 21 October, 2010 through Sharmill Films. A DVD release is out through Madman.