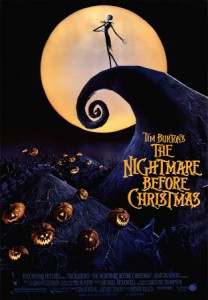 Master of populist modern gothic screen presence through films such as Edward Scissorhands, Sleepy Hollow and Corpse Bride, Tim Burton's stock motion classic Nightmare Before Christmas proves to be as gleefully spirited as when theatrically released 18 years ago.
Jack Skellington (voiced by Chris Sarandon, singing voice by Danny Elfman), the Pumpkin King of Halloween town is dispirited after another successful Halloween. Down trodden, Jack sings his laments while walking through the town cemetery and into the forest whereupon he comes to a literal crossroads. A set of trees with doorways decorated in the shape of a Christmas tree, rabbit, turkey, shamrock, and a love heart exists, signifying the popular holiday times. Entering the Christmas door, Jack becomes accustomed to the cheerful, happiness of Christmas and brings the joy back to Halloween town.
Along with the assistance of the imprisoned and literally and figuratively disentangled Sally (voiced by Catherine O'Hara) who naturally is in love with the Pumpkin King, Jack manages to cause havoc among both Halloween and Christmas towns and brings a new meaning to seasonal Christmas tidings.
With credits owing to Burton for story and character development, Henry Selick directs this fun filled film (and would later go on to make James and the Giant Peach and Coraline) and Caroline Thompson wrote the extremely witty screenplay with Michael McDowell. Typically sinister music is provided from long time Burton collaborator Danny Elfman, who spares no words in presenting maniacal and poignant lyrics for the other worldly characters.
Stunning visuals are present all throughout the film, beginning with the beautiful image of Skellington's lament against
the starkness of the bright yellow moon. This image dons many of the promotional film posters and lingers as strongly as the face of the lead skeleton. The quirkiness of the stock motion also allows for these kooky characters to be shaped in unusual framing. Despite this, they all seem completely at home and normal within the world of the gothic looking Halloween town.
While G-rated, Nightmare Before Christmas exists as an eerie looking film with serious heart. Skellington's yearning to create something meaningful stands as perhaps an unwilling allegory of the millions of people who try to bring Christmas spirit to the seasonal time. Existing as left of centre from the usual Christmas stories, Nightmare not only entertains, but delights with its originality and eccentricities.
The Nightmare Before Christmas was theatrically released in Australia on November 10, 1994 through Disney.
[youtube=http://www.youtube.com/watch?v=8qrB9I3DM80]