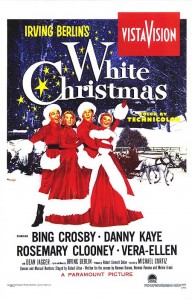 With a title like White Christmas, one may expect to be in for a very seasonal yuletide film. Despite its title, most of White Christmas is set outside of Christmas time, with only the beginning and end of the film featuring the classic hit song "White Christmas". Defining the film within the genre places the story of four performers achieving the embodiment of the success within the ideals of the American dream. Their successes from humble wartime beginnings allow for the warm and basking glow of Christmas's snowy white's existence. And what says happiness, love and a sense of togetherness more than Christmas?
Bob Wallace (Bing Crosby) and Phil Davis (Danny Kaye) are two American troops meet while stationed in Europe during World War II. They become extremely successful in their joint showbiz endeavours once the war finishes. Starting small and working up to Broadway revues, Wallace and Davis become a post-war entertainment institution. That is until they encounter Betty (Rosemary Clooney) and Judy Haynes (Vera-Ellen), a sister act. Retreating to the Columbia Pine Inn, owned by a former military colleague (Dean Jagger), the sisters begin performing their act for the few guests. To help their wartime friend, Wallace and Davis decide to join the sisters hopefully adding some star billing to the marquee and driving customers to the Inn.
Like all musicals of the Golden Era time, the musical numbers see a burst of energy added between scenes. A vehicle for Danny Kaye's comedy, Vera Ellen's dancing and Crosby and Clooney's songs, White Christmas does not disappoint in showcasing its stars talents, especially when all share the screen together.
Kaye's friendly exuberance exists even with the simplest of glances among Crosby's more concerning eye, placing him into a shell that gradually opens up to the charms of Clooney. Kaye and Ellen have tremendous chemistry that gets a chance to spin across a studio dance floor in one particular fun sequence. Crosby and Clooney's relationship also exists in that classic musical way between heartfelt songs, especially with the Academy Award nominated song "Count Your Blessings Instead of Sheep."
Thankfully DVD technology has helped retain the clarity and boldness of the Vistavision, defining an era of bright and colourful films. White Christmas was the first film that utilised the technology in 1954, only lasting less than ten years, despite the use from noted directors such as Alfred Hitchcock with North by Northwest.
White Christmas is a classic and quintessential Christmas film with fine performances that feature songs from Irving Berlin. Directed by Michael Curtiz, the film is practically the definition of a cup of hot chocolate in front of a cozy fire.
White Christmas was released in 1954 through Paramount Pictures.
[youtube=http://www.youtube.com/watch?v=AB1ZD6JKxes]