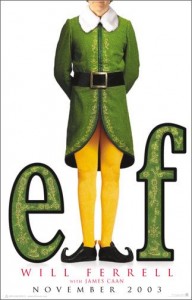 We've seen the role reversal before in films. Comedies such as Big and Freaky Friday see their respective protagonists inhabiting the wrong body. No, this is not the material for a gender alignment film in the veins of Transamerica, but the fodder for "I'm in my mum's body" family friendly films. In our latest Christmas film Elf, Will Ferrell plays Buddy, who as an orphaned infant climbed into Santa's sack one Christmas Eve and never returned.
Bob Newhart narrates our way through the story as Buddy's stepfather elf. Growing up as a giant in comparison to the other elves, Buddy immediately stands out as an outsider. A work based hierarchy sees the highest wrung being a toy maker. Buddy, however, remains a toy tester due to his ineptness at being a speedy.
Upon discovering that his biological father Walter (James Caan) is alive, Buddy is sent to New York City to reunite with him. In a city like New York, Buddy's youthful innocence blends in as kooky and rather insane, therefore slightly fitting in. Proving a popular place for season and coming-of-age stories, New York itself is as magical as the Christmas season itself.
Tension arises as his father is known as being on the naughty list, placing Caan in the familiar Scrooge character. Any man who closes libraries run by nuns has to be placed on the naughty list. But there is always room for redemption.
A successful crossover star, Saturday Night Live alum Will Ferrell plays Buddy with youthful buoyancy and curiosity. He is an outsider due to his humanness in the elf world, and his elf like qualities in the human world. The conflict makes for wonderful narrative tension and hilariously cute scenes. His ineptness also helps create a true underdog status and it is hard not to find him irresistible.
Supporting cast is full of wonderfully strong actors including the commanding Ed Asner as Santa, the kooky Amy Sedaris as Walter's
receptionist, the warm Mary Steenburgen as Buddy's stepmother Emily, a blonde Zooey Deschanel as a fellow co-worker who steals Buddy's heart. Before 500 Days of Summer raised her profile to ultimate heights, Elf displayed her terrific singing voice which can now be heard on She and Him's Christmas album.
Elf is a charming big studio Christmas film with an endearing story thanks to screenwriter David Berenbaum. Director Jon Favreau is fairly adept at making children's films with Zathura also under his belt. Elf is nothing out of the ordinary, but once again, the resounding message of the film and of most Christmas films is enveloped in a belief of Christmas and its surrounding seasonal spirit will bring joy, love, peace and harmony to all.
Elf was released on November 27, 2003 in Australia through Roadshow Films.
[youtube=http://www.youtube.com/watch?v=pvtmsqyOkhc]