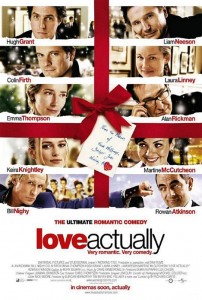 Seeing a slight departure from the rest of the selected titles in 12 Days of Christmas Films series, Richard Curtis' Love Actually sees the romantic comedy genre blended within the setting of Christmas. The film is indeed wrapped in a proverbial red Christmas bow so bright that is hard to miss.
In the style of Robert Altman narratives seen in Nashville and Short Cuts, Love Actually sees the goings on of a bunch of Londoners in the five week lead up to Christmas. As the film gets closer to the actual day, love becomes the focus of the interloping lives. Among the varied characters are two naked body doubles (Martin Freeman and Joanna Page) on a film set who actually strike up pleasant conversation; a recently divorced writer (Colin Firth) who temporarily relocates to France and strikes an unlikely relationship with his housemaid (Lucia Moniz); a businessman (Alan Rickman) who is tempted by the advances of his secretary (Heike Makatsch); among many others.
Richard Curtis assembled a fine group of actors to perform in this film. Perhaps the most poignant and interesting narrative amongst the dozen stories exists with Sarah (Laura Linney). While most of the other stories end happily, Sarah's story is bridled with disappointment after she chooses to not abandon her institutionalised brother over the romantic opportunities with the co-worker who she's been in love with for years. Another strong moment sees Emma Thompson breaking down in her bedroom while listening to Joni Mitchell after having discovered her husband's infidelity. Perhaps the melancholic favoured moments reveal more about this writer's dramatic proclivities, however, some real moments are indeed appreciated amongst the all of the soppy sentimentality.
The placing of Liam Neeson sees a moment of retrospectively awkward casting after life imitated art several years after filming. Neeson plays a widower with a stepson who is rapturously in love with a fellow school girl. This budding relationship becomes the fodder for a school nativity play finale with a version of "All I Want For Christmas Is You."
Unsurprisingly, Love Actually is all about love. While the dialogue is slightly clichéd and derivative and the storytelling may be quite convenient, there is an irresistible charm that especially culminates in the film's final moments.
Curtis makes his directorial debut with Love Actually after having penned a great deal of successful films including Notting Hill, Four Weddings and a Funeral and The Boat That Rocked (Curtis' directorial follow up). The familiar corny lines that featured in his previous works exist in Love Actually. It would be extremely safe to say that if one is not in the right mood or has a proclivity against love and mushiness, then Love Actually should probably be avoided at all costs. However, if you are susceptible to said elements, then Love Actually is the perfect Christmas filled romantic comedy.
Love Actually was theatrically released in Australia on December 26, 2003 through Universal Pictures.
[youtube=http://www.youtube.com/watch?v=KdzH6a-XEGM]