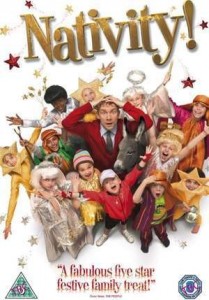 If there's one thing that we can be sure of, it is that every December brings us a strong sense of spirit. Whether the spirit is of good tidings and joy, or grouchy Bah Humbugness, is irrelevant. Nativity is a British film that is all about the Christmas spirit and the film contemplates the little white lies that we all tell in order to bring a sense of harmony, peace and satisfaction to the Christmas season.
Once upon a time Paul Maddens (Martin Freeman) was a performer alongside his friend Gordon Shakespeare (Jason Watkins) and girlfriend Jennifer (Ashley Jensen). Sick of the performing, Paul decided to become a primary school teacher, while Jennifer fled to Hollywood to become a producer and Gordon also became a primary school teacher. As Paul begins teaching at a public Roman Catholic school, Gordon begins teaching at an effluence private school. Both Paul and Gordon put on their respective school's nativity pageants in their first year out. Paul's is a miserable failure and Gordon's receives a 5 star review from the local critic (Alan Carr).
Five years advance and the school principal (Pam Ferris) lands the grouchy Paul with the job of directing the nativity pageant again. Running into Gordon, Paul competitively informs that Jennifer and some fellow Hollywood producers are coming to film his nativity pageant. And from here the lies escalate into a set of convenient narrative events.
Conflict is the centre of any story, and Nativity has it in bucket loads. The extent to which Paul lies becomes comically farcical. There is, however, tremendous heart at the helm of the film. Through the aid of a teaching assistant Mr. Poppy (Marc Wootton), much light and childhood innocence is brought. The children themselves act as a beacon of purity and virtue during the annual yuletide.
Martin Freeman is quite affable as the lead and Jason Watkins is cunningly devious as the antagonist. Pam Ferris gets another chance to play a principal, albeit a much nicer one than in Matilda, and is also very enjoyable. Ashley Jensen's warmth helps sustain her character's importance, despite little screen time and a physical distance from the goings on of the film.
Satirising the American Idol style audition process, Nativity also displays the strange and varied talents of the children involved. Put simply, the kids in this film are adorable, as is the general premise of the film. Writer/Director Debbie Isitt's Nativity is a lovely film with lots of heart filled with a warm Christmas spirit.
Nativity was released on DVD in Australia on November 18, 2010 through Hopscotch Films.
[youtube=http://www.youtube.com/watch?v=N-xUVK1ppq4]