Episode 3 sees a dramatic turn in the ABC adaptation of Christos Tsioklas' The Slap. Two of the strongest points of view regarding the incident of the slap surround the characters of Harry and Rosie. Now, we get an insight into Harry's mind.
Harry is a man who is consumed by pride. He is loyal beyond definition and family has been at the forefront of his being, evident even from the first episode. While he clearly loves his family, the blueprints set by his father still strongly feature in his day-to-day encounters with those closest to him. Harry's anger comes across as primal, which is an interesting technique to show in this episode. We see the irrationality in Rosie and Garry, as to be expected from Harry's point of view, but his own irrationality and threatening physical presence are very confronting in his own episode. We believe we are seeing the inner truths of each character when they have their own episode, and so therefore we believe that Harry can exhibit bestial behaviour.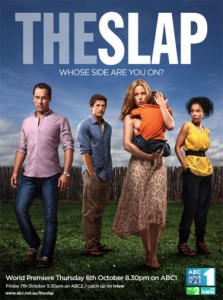 Alex Dimitriades does not hold back on Harry's primal self. Seeing Harry in human form put aside some of the prejudices I held against him in the novel. Dimitriades brings a vulnerability to Harry, especially regarding the relationship to his deceased parents. This too is in the writing, with a terrific script from Brendan Cowell and terrific erratic direction from Matthew Saville.
Racial prejudices come out in Harry's world, particularly through Harry's own language. Skip, blacks, wogs are common terms used to distinguish, identity and insult. This inclusion places the middle-class racism that is extremely prevalent and yet seldom seen in television and films, where we are accustomed to hearing the lower and higher classes as the racial discriminatory groups.
The previously superfluous narration proved to have more purpose in this episode. While I am still not a huge fan of the stylistic device in general, it was good to see it being used to reveal information that was not necessarily known. That being said, this information was later revealed in the episode through a conversation with Manolis.
Diana Glenn supports Dimitriades well as Harry's wife Sandy. She looks the part of the trophy wife and her sexuality places onus Harry's infidelities as his problem. He is not sexually deprived at home, and so we believe that his behaviour is especially primal based. Essie Davis, Jonathan LaPaglia, Anthony Hayes, Sophie Okonedo, Lex Marinos and Melissa George all get a small chance to shine as well, but this episode belongs to Dimitriades.
To see other episode reviews, click here.
The Slap airs on Thursdays at 8.30pm on ABC1. It can also be viewed on ABC2 and iView.