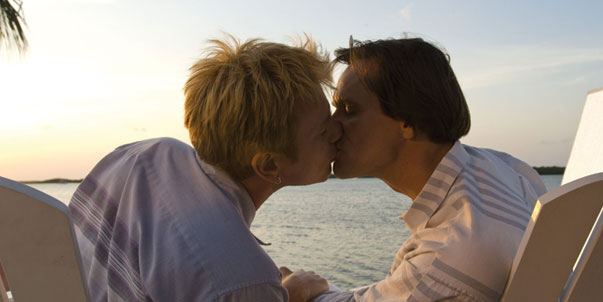 By James Madden. Viewed 30.07.10
I Love You Phillip Morris is the unbelievable true story of Steven Russell, a con-man who is currently serving a 144-year sentence in prison. Written and directed by the writers of Bad Santa, Glenn Ficarra and John Requa, the film stars Jim Carrey as Russell, and Ewan McGregor as the titular Phillip Morris.
The story is rather simple: the two men meet in prison, quickly fall in love and Russell decides to amplify his already mastered con-artistry to keep both men in a financially wealthy and stable home. While the story may be simple, it is ridiculous, absurd and inconceivable, and yet all based in reality. The humour is hysterical, shocking and provocative, featuring jaw-dropping moments that propel the film miles over the morally appropriate line.
Premiering at last year's Sundance (over 18 months ago!) to very supportive reviews, Phillip Morris has had its release date pushed back continually due to legal distribution issues. Most recently slanted for a Valentine's Day release in the US, the film has now been pushed back to October, and talks of a straight-to-DVD release have surfaced.
Controversy has not only surrounded the legalities of the film's distribution, but also of a particular "explicit" and "graphic" sex scene featuring Carrey and another "bear" homosexual male. Ironically, the scene doesn't show any genitalia, but due to the repeated hold off on release, the scene has been leaked and is circulating on the internet.
With the slickness of a mainstream Hollywood film (due to a nice budget of $13M), I Love You Phillip Morris contains subject matter that is more frequently seen in art house cinemas rather than in the multiplexes. The so-called "last taboo" – homosexuality on screen in Hollywood films – is one major part surrounding the films controversial release, as Carrey and McGregor are apparently too convincing as two men in a relationship.
Regardless of this controversy, Jim Carrey is a revelation in this film and gives quite possibly his best performance to date. He has the material to be hysterical, and yet a chance to combine this with tenderness, humanity and some great scenes that will hopefully bait the Academy into showing Carrey some Oscar love. This is the performance that Carrey has been dying to give, and it is a shame that the legal issues are preventing more people from seeing his performance.
Ewan McGregor gives a humourous and touching performance as Phillip, providing a stable and emotional counterpart to Carrey's enormous bravado. As McGregor appropriately authenticates reciprocal feelings for Carrey, he tones down his exaggerated motivations and actions.
Unpredictable in its superb absurdity, the film also powerfully suggests to not take Carrey and McGregor's coupling too seriously, but to enjoy the hilarious ride. Due to the shuffling of the films release date, indulge in the chance to see Phillip Morris while you can, as this crazy and insane film comes along once in a blue moon, (and what better place to see it than in a sold out film loving crowd!)
2009, USA, dir: Glenn Ficarra and John Requa.
I Love You Phillip Morris is playing at the Melbourne International Film Festival on Friday 30th July at 7pm and Thursday 5th August at 9.15pm.