By James Madden. Viewed on 27/01/2010.
Every now and then a film comes along that reminds you of the golden age of Hollywood. Rob Marshall's Nine is one of these gems. I was slightly hesitant in seeing Marshall's latest offering, after not so glowing reviews and his previous work Memoirs of a Geisha (which was good, but not of the Chicago calibre.) However, this was dispelled from seeing the masterpiece that is Nine.
There are eight wonderful performers on show here; Guido (Daniel Day Lewis), his wife (Marion Cotillard), his mistress (Penelope Cruz), his muse (Nicole Kidman), his dead mother (Sophia Loren), the journalist (Kate Hudson), the whore from his past (Fergie) and his costume designer (Judi Dench). I'm not going to ruin the plot of the film, but doing the math and adding all the main characters together, it comes to one short of the title of the film. After some further research to demystify this quandary, I discovered that the "nine" refers to the addition of the songs to Fellini's masterpiece 8 1/2 on which Nine is based upon. Fellini considered this masterpiece his 8 and a half piece, as he had completed 6 feature films, 2 short films and had co-directed a film. The number nine is also of central significance when we consider the age of young Guido, when seen in flashbacks. It is quite plausible to say that Guido never really grows up from this age. He is constantly trying to prove himself in a much similar way to a child.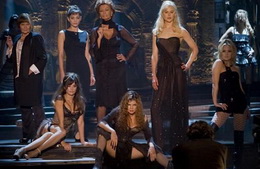 So, with the title issue resolved, the rest of the film can be looked at as a theatrical masterpiece. It is not often that you see a musical which is so inherently theatrical. Musical numbers take place on a stage, in different costumes and with reality paused. The usual convention is to continue through the plot as if nothing is different, despite the fact that everyone is singing. It is this element that really blew the socks off me. The characters are introduced in one mega opening scene, with characters from the past and present, living and dead, all circling our protagonist Guido. In the final scene, these same characters all appear again (all bar one) as if taking a bow.
Daniel Day Lewis shows us that while he is as Irish looking as a potato, he so wonderfully convinces us that he is Italian. He has an apt singing voice that was well above my expectations. However, it is the women of the film that are to be in awe of. Penelope Cruz shows the pizzazz and vulnerability in Carla, and she is just oozing of talent. Marion Cotillard presents perhaps the strongest voice next to Fergie and gets to play both the dutiful and heartbroken housewife as well as a bit of a minx in one particular song. Judi Dench shows us a side that is not often seen in her recent work, despite her theatrical roots (and a role as Sally Bowles in the Original British production of Cabaret.) Sophia Loren looks stunning, but lacks the real punch to pull off her song effectively, as does Nicole Kidman.
Now, as much as I love Nicole Kidman, (which seems to be something to be ashamed of these days) she isn't given the chance to truly shine in the same degree as Cruz, Cotillard and the other ladies. She looks absolutely stunning, but it's her song "Unusual Way" that is lacklustre, and devoid of real punch and pizzazz; something that the rest of the film is dripping in. She reportedly replaced Catherine Zeta Jones who wanted the part made bigger. It's not wonder why.
But as for the performances that retain in the mind long after you leave the cinema, the award goes to….It's a tie! Kate Hudson, for her bouncy, catchy song with lyrics that sound like they were pulled straight from a cinephile's dream. Fergie (or Stacey Ferguson…what is she going by these days?) looks quite unlike anything we've seen from the Black Eyed Peas singer. Donning an Italian (female equivalent) stallion look, Fergie has "Be Italian", one of the songs that was on repeat in my brain after seeing the trailer, and then of course, the actual feature film.
It is the work of Rob Marshall and third time collaborator, Australian Academy Award winning cinematographer Dion Beebe. Beebe, who won the cinematographer Oscar for Memoirs of a Geisha and previously nominated for Chicago is working with Marshall for the third time, and his work looks amazing, as per usual. The luminous skin of each actress that is cast in the film looks good enough to kiss, if not eat. They look delectable.
The masterful work of Marshall, Beebe, and D-D-Lewis
With the close of Miramax, the Weinstein Brothers have moved their talents elsewhere, and show that they are champions for the best of the best in filmmaking. Hollywood simply does not make films like this anymore, and it is puzzling to think why. The film received some negative reviews, but the award bestowers could not resist acknowledging it, and I am fully behind them. Nine is fun, looks theatrically crisp and delicious and thrusts non stop entertainment at you!