After penning the screenplay for The Social Network and winning an Oscar, Aaron Sorkin returns to the small screen with his latest venture. With some assistance from HBO and direction from Greg Mottola, The Newsroom picks up in a similar place to where The West Wing left off: setting an example of strong morals within an idealised workplace. For West Wing fans, this is most definitely a good thing. And for those who aren't familiar with Jed Barlett and his staff, there is still plenty to admire about The Newsroom.
Will McAvoy (Jeff Daniels) is a nightly news anchor for a major network. We first meet him at a university speaking engagement with two other talking heads. Ever the unassuming and apolitical journalist, Will has a candid and surprising response provoked by the question "Why is America the greatest country in the world?"
Unleashing a verbal tirade like only Sorkin could write, Will makes salient and blunt observations, commenting on why American isn't the greatest country. Returning to work after a couple of weeks vacation, Will finds that the majority of his staff – including his executive producer Don (Thomas Sadoski) – have left or are planning to. Replacing Don is Mackenzie (Emily Mortimer), a former colleague/enigmatic flame who has a strong vision for a new kind of news.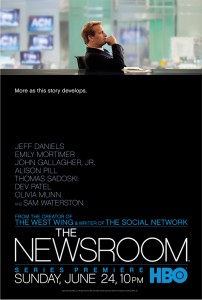 Despite clear influences from Howard Beale, Paddy Chayefsky's infamous news anchor from Sidney Lumet's 1976 Oscar winning classic Network, The Newsroom still marches to the drum of its own beat. Rather than just commenting on the state of modern network news, The Newsroom provides a utopian case study of how something can be done right, much like Jed Barlett's presidency in The West Wing.
Having scored the main titles for HBO's Six Feet Under and the phenomenal score for Angels in America, Thomas Newman thankfully returns to HBO. The opening titles with Newman's uplifting score sum up the series with a sense of majesty, inspiration and hope. The message is loud and clear: it is a new age both technologically and in the mindsets of audiences. Unbiased and factual news that is free from corporate appeal is missing and The Newsroom will show how that can be achieved again.
Jeff Daniels amply shows his talents in the role as news anchor Will McAvoy. He displays an authoritative tone, with the haste, urgency and calmness common of anchors. Will is also constantly irritable and tense, best seen as he screams out "I'M AFFABLE!"
Though not a new face, Emily Mortimer is the breakout performer of the series, playing Mackenzie with wit, heart and a fiery determination that is enjoyable with every swift turn of her head and intense glare of the eyes. Mortimer's tenacity adds an extra layer of excitement to the already
Engaging supporting performances come from Alison Pill, John Gallagher Jr., Sadoski, Dev Patel and Sam Waterston as they round out the troupe. It feels only natural that we'll grow to love these Sorkinesque characters as the season continues.
Sorkinesque is most definitely a perfect adjective to describe the characters snappy dialogue and constantly uncontained movements. And this of course is a very good thing.
The Newsroom will premiere on Monday 20th at 8.30pm on the SoHo channel. Read more episode reviews of this season.