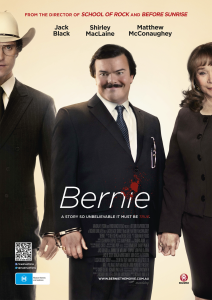 Courtesy of Madman Films, Film Blerg is giving away 5 double passes to a preview screening on BERNIE on Wednesday 8th August at 6.45pm at the Cinema Nova in Melbourne.
BERNIE is in cinemas on Thurs 16 August.
Film Synopsis: In the tiny town of Carthage, Texas, assistant funeral director Bernie Tiede is one of the town's most beloved residents. Bernie befriends Marjorie Nugent, a sour and affluent older widow. Soon Bernie and Marjorie become inseparable and Marjorie becomes very dependent on Bernie, stifling his extroverted personality. Bernie is forced to quit his job and philanthropic activities in the community, leaving him deflated. Then things suddenly get better for Bernie and he seems his old generous self, while Marjorie is mysteriously absent. When Marjorie is discovered to have been dead for months Bernie Tiede is charged with murder, to the great surprise of the local community.
How to win:
Visit our Facebook page and hit the "SHARE" button on the Bernie status.
Write "Win free tickets to see Jack Black, Matthew McCoughney and Shirley MacLaine in BERNIE" in the write something section.
Send your name and address to giveaways@filmblerg.com with BERNIE in the subject.
Competition opens 9am AEST Monday 30th July, 2012 and closes 5pm AEST Friday 3rd August, 2012.
Terms and conditions
Passes are eligible only to Melbourne residents.
Film Blerg and Madman Films cannot be held accountable for any delay or loss of prizes.
You must follow Film Blerg on Facebook or Twitter to be eligible.
Any information sent remains confidential.