Someone in Hollywood believes in making a major movie star out of Robert Pattinson. After scoring millions of fans from the Twilight films, the brooding young star is now being lined up in a series of high profile dramas.
Based on the 1885 novel by Guy de Maupassant, Bel Ami is set in 1890 Paris where money, politics and indulgence is rife. The story follows Georges Duroy (Pattinson), who is an unlucky character finding hope in a chance encounter with an old army comrade Charles Forestier (Philip Glenister) who is an editor of an anti-government newspaper run by Rousset (Colm Meaney).
Anxious to make a respectful name for himself, Duroy is assisted by Forestier's wife Madeleine (Uma Thurman). Like chess pieces Duroy eventually indulges in affairs with influential women such as Clotilde (Christina Ricci) and Rousset's wife (Kristin Scott Thomas).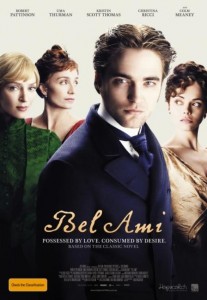 The opening scenes of Duroy hint at a peasant's life before he meets his lucky chance. Overlooking the back-story to his character is unfortunate, as it could have led us to understanding him more. Although very good looking, it becomes tiresome to think that Pattison can seduce any woman. He barely speaks a word and broods to the camera and the female characters around him literally beg for more.
Uma Thurman breathes much needed life into the screenplay. Her dominance on screen possesses the kind of power that was required for Pattison's role. Here also, Scott Thomas shines in a smaller role but something against type. Ricci eludes us with a character sorely undeveloped.
Perhaps the best aspect of the production is Stefano Falivene's cinematography. The crisp, vibrant colours on display remind us of what a visual joy cinema can bring. The fault lies in a story that lacks conviction and passion to entice its audience and for it to care for the central characters. Namely Pattinson's Duroy.
With another lead actor with more depth and star power, this could have been a highly successful film. Instead, enjoy it for the trio of high calibre actresses and sumptuous visuals.
Bel Ami opened in Australian cinemas on 24 May through Hopscotch Films.